Intel's biggest fab is coming to Ohio, and Arizona is the blueprint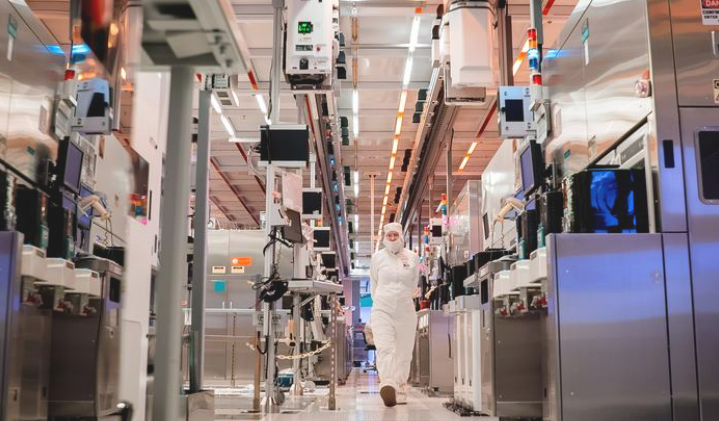 When Intel Corp. first arrived in Ocotillo in Chandler, Arizona, it was host to sprawling farmland and the occasional neighborhood, far flung from the heart of the metro Phoenix city.  
Intel (Nasdaq: INTC) bought over 700 acres in 1987 and built its first semiconductor fabrication plant, or fab, at the time the biggest clean room of its kind. It's since expanded with subsequent fabs in 2000, 2006 and 2020.  
The Ocotillo plant is not done yet — construction has begun on a fifth and sixth fab in a $20 billion dollar expansion, which will bring in 3,000 new employees, 3,000 construction jobs and 15,000 indirect jobs.
But all this pales in comparison to what Intel is planning on its more than 900 acres in Columbus, Ohio, slated to be the largest semiconductor manufacturing site of the next decade. And Arizona is the testing ground on what will make that happen as efficiently as possible.  
The Phoenix Business Journal tagged along as journalists from Ohio were invited by Intel to tour the campus, construction site and an intriguing peek inside the fab itself to see what's to come in Ohio.  
The path from Fab62 to Ohio   
All six fabs function as one big fab, interconnected by an automated material handling system, called the automated superhighway, or ASH in the internal Intel dictionary. The full size is nearly that of six American football fields.  
Each semiconductor chip is meticulously made over a period of months on a silicon plate called a wafer. Hundreds of cars along the 25 miles of track along the superhighway move thousands of wafers from station to station in the production process. And each car contains 25 wafers, one of which can contain hundreds of chips, carrying as much as $250,000 worth of product.  
The whole process is entirely automated with artificial intelligence, taking wafers from station to station across fabs in complex patterns with the goal of complete efficiency.  
When Intel first began construction on Fab12, five more fabs was never in the plan. The fabs are laid out in a sort of number seven shape. Jim Evers, the Intel Ohio general manager who joined Intel as an engineer for Fab12 in Ocotillo, said Ohio, instead, will be dense and efficient.  
"The path along the way was an important path. … I will take everything that I learned in the last 28 years, and we will replicate that back in Ohio," Evers said.  
The two new fabs, which Evers called a twin-pack fab, will be essentially copied in Ohio with two key differences: more fabs and a better layout. The initial investment in Ohio is also $20 billion. 
Side note — one of the largest mobile land cranes in the world is on the job in Ocotillo, the Liebherr LR 13000. It lifts roof trusses that were assembled on the ground into the air several stories high, and will be on its way to build the new Ohio campus.
From one fab to four fabs and beyond, Evers said the Ocotillo plant is "what the future could look like" in Ohio.  
Won't you be my neighbor, Intel?  
Evers also emphasized the importance of partnerships with local government, cities and neighborhoods, especially when 1.5% of Arizona's statewide jobs are supported by Intel operations.  
Fab12 was a "fab in the fields," Evers described, but now Ocotillo is a bustling suburb, and Sun City borders Intel's campus along the south. Similarly, the Ohio site will be on the outskirts of the city in New Albany.  
Every Intel site is different, said Liz Shipley, the company's public affairs director, and Intel does a deep dive to understand the local community and resources. The Community Advisory Panel discusses community needs and problem-solves issues. A city counselor, superintendent of schools, county commissioner, local business representatives and nonprofit representatives meet quarterly with Intel. Ohio, too, will have one such panel.  
"Our neighbors are really important to us, and we want to make sure we minimize our impact," said Shipley, especially during construction. One employee's sole job is to work with local HOAs, hold community open forums and keep in contact with neighbors.  
Intel Ohio's Neighbor Relations program will kick off soon, including 24-hour hotline for questions and neighborhood meetings in Licking County, home of New Albany, and Franklin County.  
Finding Intel's workforce in local higher education  
Intel has been meeting with Ohio universities and community colleges to recreate relationships similar to those the company has with universities in Arizona.
Intel heavily recruits from Arizona State University, which has one of the largest engineering schools in the country, and it looks to do the same with Ohio State University and other institutions. Ohio State University and ASU already have a relationship between their engineering departments.
Intel also integrates its employees into the institutions to develop curriculum, give advice and scout for talent.  
The Ohio plant will bring in 3,000 new jobs, over 70% of which will be manufacturing technicians, 25% engineers and 5% support. The company is trying to hire 50% of the workforce in 2023 and 2024 and expects to hire 2,000 of the 3,000 jobs out of Ohio. Intel is already recruiting employees out of Ohio universities this fall, with plans to train them onsite in Ocotillo next summer in 12- to 18-month assignments to be fully ready when the Ohio plant opens.  
There are some differences, like the abundance of public and private Ohio universities and colleges versus Arizona's three major public universities and system of Maricopa Community Colleges.  
Intel has planned a $100 million initial investment in the form of grants over the next decade in partnership with Ohio universities, community colleges and the U.S. National Science Foundation. Grant applications were submitted in May and are currently being evaluated.  
The Ohio plant isn't expected to be completed until 2025. Intel has frozen progress and postponed the groundbreaking ceremony, too, as Congress hasn't formally allocated the budget to finance the CHIPS Act, which proposed $52 billion in funding to invest in the domestic chip industry.  
"It took me 28 years to build four fabs here," Evers said. "Hopefully, it can go just a little bit faster in Ohio."
---
Register for the Council's upcoming Phoenix and Tucson tech events and Optics Valley optics + photonics events.
---