Honeywell collaborates with Department of Energy on hydrogen fuel innovation for drones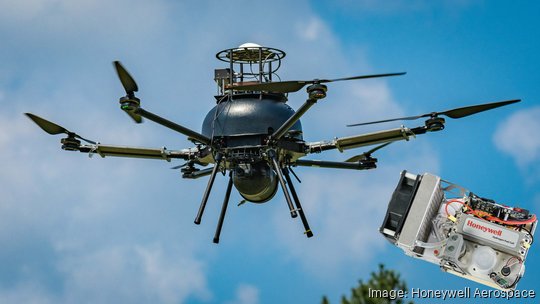 Phoenix-based Honeywell Aerospace is working with the federal government on an innovative hydrogen fuel storage system for unmanned aerial vehicles, or UAVs.
Honeywell (Nasdaq: HON) has entered a partnership with the U.S. Department of Energy's National Renewable Energy Laboratory, or NREL, to spend the next year providing its expertise and testing for fuel cartridge technology, supply chain support, prototyping and fuel cell evaluation in a project called Fuel Additives for Solid Hydrogen (FLASH) Carriers in Electric Aviation.
The NREL has already developed hydrogen carrier technology, and Steve Christensen, one of the lab's leads on the project proposal, said Honeywell has already built and tested devices that can use the lab's materials for the new collaboration, which aims at moving toward commercialization of the technology.
"This is a dream project for a national lab researcher," Christensen said in a statement.
Honeywell's Dave Shilliday, vice president and general manager for Urban Air Mobility and Unscrewed Aerial Systems, said hydrogen technology has a vital place in sustainable aviation.
"Hydrogen can offer significant advantages for electric vertical take-off and landing systems in terms of endurance and range," Shilliday said in a statement. "Additionally, using hydrogen as a power source can also significantly expand the possibilities of UAVs beyond the limitations posed by battery-electric powertrains. Honeywell will work with NREL to develop the necessary hydrogen-related technology to contribute to the further growth of the industry."
Electric UAVs are being used for surveying, infrastructure inspection and security, replacing ground-based vehicles and piloted helicopters. Those involved in the project said that besides safety, UAVs can be more efficient, reliable and precise than conventional combustion aircraft. However, battery powered electric UAVs are not yet up to the task of covering longer ranges and higher payloads.
"Today's long-range drones are typically powered by internal combustion engines. While they provide the required range that battery-powered electric UAVs lack, these engines have issues with excessive noise, vibration and emissions, including carbon emissions," said Katherine Hurst, NREL senior scientist and group manager, in a statement. Some of those problems can particularly diminish performance in applications such as atmospheric monitoring.
The FLASH project's answer to those problems is based on long-lasting hydrogen storage — in the form of a solid material that can rapidly release hydrogen gas — coupled with a fuel cell that converts the hydrogen to electricity.
The partnership's work is part of the Hydrogen Materials Advanced Research Consortium, or HyMARC, project, which is funded by a partnership of the DOE's Hydrogen and Fuel Cell Technologies Office, NREL and Honeywell. Specific funding details have not been released.