GPEC, Startup Island Taiwan ink agreement to foster business collaboration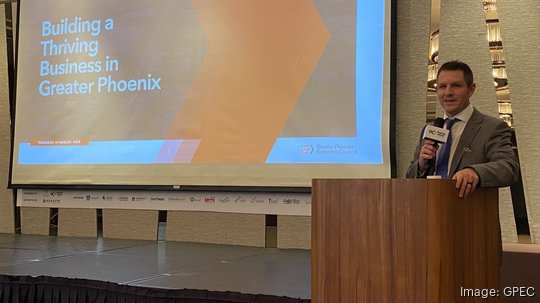 The Greater Phoenix Economic Council and the office that promotes Taiwan's startup sector are forming a partnership to spur future business collaboration in emerging tech sectors and help more Taiwanese companies gain a foothold in Arizona.
GPEC and Startup Island Taiwan — with support of the National Development Council of Taiwan — inked a memorandum of understanding Aug. 17 in Taipei that recognizes a commitment to expand joint business missions and investment opportunities for Taiwan's startup community in the Valley.
The MOU's objectives include exchanging information on industry and investment projects, encouraging joint business missions and initiatives, and facilitating about a dozen "soft landing opportunities" for Taiwanese startups in Phoenix-area programs such as the Global Growth Accelerator — an initiative between Arizona State University and GPEC that assists international companies with launching in the U.S.
The partnership is also intended to help Taiwanese startups move into international markets and further U.S.-Taiwanese collaboration in emerging tech sectors, including cybersecurity, green energy technology, 5G, information and communications technology, semiconductors, life science and health care, aerospace, artificial intelligence, autonomous systems, advanced manufacturing and e-mobility.
Tim Draper, founder of Bay Area-based venture capital firm Draper Associates and Draper Venture Network, worked with GPEC's team to put together the memorandum of understanding with Startup Island Taiwan, GPEC's Chris Camacho told the Business Journal.
"My expectation is this is going to create waves around the world and certainly, venture capital, I hope, will flow further into our market just like we've seen the last few years," Camacho said.
Taiwan startups integrated into Arizona programs
Camacho said he's had discussions with several people in the local tech community on integrating Taiwanese startups into various programs, including StartupAZ, ASU's Venture Devils and Venture Café.
"I think there's going to be a tremendous number of integration points," he said. "And the more international we become as a market, the better our economy is going to be."
Taiwan is globally recognized as a hub of innovation and entrepreneurship, ranking first in the Asia Pacific Region and fourth in the world in innovation capability, according to GPEC. The country's growing relationship with Arizona is bolstered by Taiwan Semiconductor Manufacturing Co.'s $40 billion chip manufacturing plant under construction in north Phoenix.
"Our expectation is we've been able to leverage the visibility of the TSMC investment in Arizona and it's opened so many other lateral industry doors," Camacho said. "We're finding a lot of growth companies, startups and even mature companies whom I met with yesterday from space to drones to all kinds of advanced technology looking at establishing operations in the United States and we naturally want Arizona to be their first launch point."
About 80% of Taiwanese startups are looking to expand overseas, with the U.S. being the top target market, Camacho said, citing data from a PricewaterhouseCoopers study.
"So we want to make sure we're well-positioned for the industry investment and we met with the National Development Council (of Taiwan) yesterday with the intent to have them establish a node in Arizona to help their Taiwanese companies launch in the U.S. market," he said.
Startup collaboration follows opening of Arizona trade office in Taiwan
More than 20 organizations and dignitaries attended the MOU signing, including NDC Minister Kung Ming-Hsin, Startup Taiwan Managing Director Amanda Liu and U.S. Sen. Mark Kelly.
"The United States and Taiwan have many shared values and a deep, mutually beneficial economic relationship," Kelly said in a statement. "This agreement builds on that by creating a pathway to foster even more collaboration and drive investment into critical industries in both Arizona and Taiwan. As Arizona's Senator, I'll continue working to find more opportunities to support shared investment and innovation between the United States and Taiwan."
GPEC and Startup Island Taiwan's agreement, first reported by Axios Phoenix, is the most recent move to spur collaboration among Arizona and the country in East Asia.
In 2021, Arizona signed a memorandum of understanding with Taiwan's Bureau of Foreign Trade, which outlined steps Arizona and Taiwan are taking to enhance private sector collaboration and grow supply chains.
Arizona in March opened a trade and investment office in Taipai, Taiwan to increase economic collaboration and foreign direct investment opportunities. The office is part of the Arizona Commerce Authority.
In July, a delegation of economic development and city leaders spent nearly two weeks in Japan, South Korea and Taiwan, where they met with government leaders and more than 100 businesses, including TSMC, the Business Journal reported.
Arizona State University and TSMC announced a partnership last month to boost student training, workforce recruitment and faculty research.
TSMC and ASU's collaboration calls for additional lab courses, hands-on learning opportunities, undergraduate research programs, and expansion of the fab workforce pipeline, which includes student internships, master's fellowships and membership in the Corporate Affiliate Program through ASU's career centers.
---
Register for the Council's upcoming Phoenix and Tucson tech events and Optics Valley optics + photonics events.
---