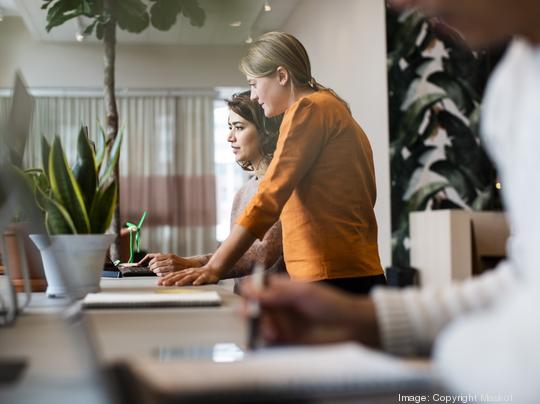 When Gregg Scoresby launched CampusLogic in 2011, he quickly realized he was among only a handful of early disruptors building large-scale software companies in Arizona. Bret Larsen had a similar experience when he launched the health care delivery platform eVisit in 2014.
A decade later, much has changed. Arizona has evolved into a premier destination for technology, one that's rapidly growing. Since 2015, Arizona has added more than 38,000 tech jobs, bringing total employment in the tech industry to more than 255,000.
As new startups have sprouted and expanded, capital has poured into the state. Investments topped $979.5 million through the first three quarters of 2021, already a record amount, according to PitchBook and the National Venture Capital Association.
Scoresby and Larsen know a thing or two about growing companies from the ground up. Both point to Arizona's robust talent, exceptional quality of life, affordability and collaborative ecosystem of entrepreneurs and innovators willing to coach and mentor fellow startups as factors in their success.
They also recognize the work of organizations like the Arizona Commerce Authority (ACA), which supports startups at all stages through a comprehensive suite of programs. These include the Arizona Innovation Challenge (AIC) and Venture Ready Accelerator, a premier business mentorship program in the state. There's also the Venture Partner program, which facilitates introductions between venture capital firms and promising early-stage Arizona companies.
CampusLogic, whose technology simplifies college financial aid processes, and eVisit, a telehealth platform, are both awardees of the Arizona Innovation Challenge, one of the largest business-plan competitions in the nation. Both also participated in Venture Madness, a pitch contest presented by Invest Southwest, in partnership with the ACA.
"The AIC and Venture Madness have created a dynamic that drives outcomes," Scoresby says. "It's how you build a community. The Arizona Commerce Authority creates a tailwind of support."
Both companies have gone on to disrupt their respective edtech and medtech marketplaces, finding national success from their home base in Arizona. Last year, CampusLogic raised $120 million in private capital from Dragoneer Investments, while eVisit closed on a $45 million Series B round from a division of Goldman Sachs in September 2021.
Since 2011, 120 companies have been selected as AIC awardees from over 2,000 applicants, including fast-growing leaders like CampusLogic, eVisit, botco.ai, and RexPay. Today, AIC companies have a combined portfolio value of $1.4 billion, showing the incredible talent and potential present in Arizona's rapidly growing startup ecosystem.
This month, the ACA announced the latest round of AIC awardees with tech and innovation startups in bioscience, IT software and advanced materials.
The 10 companies added to the AIC portfolio include exciting startups like Ampcera, a Tucson-based manufacturer of advanced materials used in lithium-ion batteries; cutting-edge software service providers like Better Agency, Bluetail, Dorm Room Movers and VIVAHR; and bio and life sciences innovators like SaiOx, TapRoot Interventions & Solutions, ReSuture, Navi Nurses and the Patient Company.
Tech entrepreneurs point to Arizona's collaborative culture as an important accelerator.
"An advantage of building a company in Arizona is the openness to collaborate and contribute," Larsen says. "Founder to founder, good collaboration happens here."
In addition to these startup programs, the ACA and Stout Street Capital convene the largest venture capital conference in state history. UNMET Arizona brings together fast-growing tech companies with institutional investors from across the country. UNMET Arizona 2021 resulted in hundreds of connections and tens of millions of dollars invested over the course of a few days.
John Francis, founding partner of Stout Street Capital, describes it this way: "Arizona has developed a tremendous amount of street cred among investors for its innovative startups. Through its collective efforts, Arizona has built an ecosystem that can help build the next crop of world-changing companies. That is why VCs will invest in companies here in the years and decades to come; we are just getting started."
Thanks to the pioneering efforts of early entrepreneurs, a low-barrier business environment, and welcoming atmosphere, there is momentum behind Arizona's startup community. This desert has become fertile ground for entrepreneurs and innovators. With continued support from organizations like the ACA, investors and tech watchers can expect many more homegrown success stories to take root.
To learn more about ACA programs that support innovation and entrepreneurship, visit azcommerce.com/programs/.
---
Visit www.aztechcouncil.org/tech-events to view all of the Council's upcoming virtual tech networking opportunities, engaging virtual tech events and in-person tech events.
---