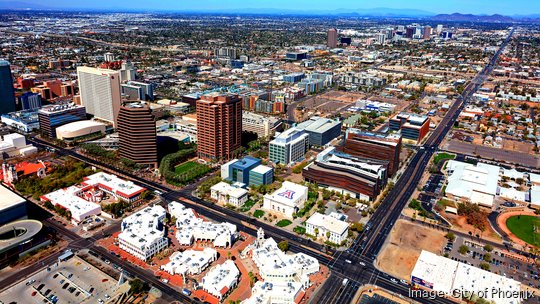 A Phoenix-based philanthropic organization is entering the venture capital world to advance its mission of supporting bioscience and health care-focused startups.
The Flinn Foundation has joined Scottsdale-based Xcellerant Ventures as a limited partner in its Xcellerant Venture Capital Fund I, the organization announced.
Xcellerant Ventures primarily invests in early and seed-stage startups in the healthtech and medtech sectors with strong intellectual property portfolios and potential to "transform medical practice and dramatically improve health care," according to the VC firm.
The VC firm has invested $9 million to date in six startups in Arizona, California and Minnesota.
The Flinn Foundation's investment in Xcellerant's venture capital fund is mission-driven and complimentary to the organization's portfolio, saidStacy Tucker, vice president and chief financial officer of the Flinn Foundation.
The organization was also in favor of Xcellerant's approach to supporting companies through education, feedback and mentoring, Tucker said.
"We saw this as a really rewarding opportunity to make an investment in bioscience startups that need startup and seed capital," she said.
Tucker declined to disclose the Flinn Foundation's investment amount in Xcellerant's fund.
Xcellerant and the Flinn Foundation's mission to support growth and success of bioscience and health care sectors in the state will result in "faster commercialization of transformative solutions and greater impact for the benefit of patients," according to the venture capital firm.
Xcellerant Ventures Managing Director Doug Sylvester called the Flinn Foundation partnership a "game changer for the Arizona bioscience ecosystem."
"It is the next step in creating a vibrant innovation network where entrepreneurs and founders from Arizona — often nurtured by Flinn for years — can find the funding necessary to keep their companies here," Sylvester said in an email.
The Flinn Foundation, a privately-endowed organization established by Robert and Irene Flinn in 1965, awards grants and operates programs for the biosciences, Flinn Scholars, arts and culture, and the Arizona Center for Civic Leadership. It also hosts the Flinn Foundation Bioscience Entrepreneurship Program, which provides funding, professional support, connections, and networking opportunities to Arizona early-stage bioscience firms.
In 2002, the Flinn Foundation developed Arizona's Bioscience Roadmap, a long-term strategic plan to make the state a national leader in the sector by 2025.
"Flinn is the pre-eminent foundation in Arizona for supporting bioscience and health innovation," Sylvester said. "Bringing Flinn's decades of experience and reputation into a partnership with Xcellerant will catalyze bioscience and healthtech in Arizona to the next level of innovation."
Xcellerant raises $20M for VC fund, sets target of $100M
Xcellerant, which describes itself as the most active venture capital fund in Arizona, is led by founding partners Chris Yoo,John Shufeldt and Sylvester, all of whom have extensive experience in medical tech, law and entrepreneurship.
So far, Xcellerant has invested in six startups and sent a number of term sheets to new portfolio companies, Sylvester said.
About two-thirds of the firm's portfolio consists of Arizona-based companies with another startup likely to relocate to the state in the coming months, he added.
Xcellerant's portfolio includes Tesis Biosciences, AdviNow Medical, Anuncia Medical Inc. and Rivia Health, all of which are based in Arizona. Rochester, Minnesota-based Nanodropper Inc. and Treatment, Technologies & Insights, of Los Angeles, round out the portfolio.
To date, Xcellerant has raised $20 million for its venture capital fund and invested about $9 million in its stable of six startups. The firm is aiming to raise a total of $100 million for the fund, but a $50 million raise would be considered a success, Sylvester said.  
"We will continue to raise throughout 2023 and hope to continue to strengthen institutional connections under this partnership with Flinn," Sylvester said.
---
Register for the Council's upcoming Phoenix and Tucson tech events and Optics Valley optics + photonics events.
---