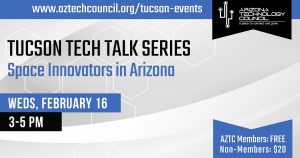 Join the Arizona Technology Council IN PERSON for its Tech Speaker Series that brings together innovators and industry champions of existing and emerging sectors who are reshaping Arizona's tech ecosystem. 
Tucson is home to great space tech companies. Learn trends in this industry, updates about their innovations, and their vision for the future of space tech in Arizona! 
Join us for this interactive panel of experts as they explore this topic and present to the technology community.
COVID Guidelines: Please do not attend if you are not feeling well or are exhibiting any COVID-like symptoms.  We ask that you wear a mask indoors unless actively presenting, eating, or drinking.
Agenda:
3:00pm – 3:30pm MST  |  Registration
3:30pm – 3:35pm  |  Welcome Remarks
3:35pm – 4:45pm MST  |  Panel Discussion – Space Innovators in Arizona
4:45pm – 5:00pm  MST  |  Audience Q&A

Location
3400 E. Britannia Drive
Tucson , AZ 85706
Venue
Paragon Space Development Corporation
Date
February 16, 2022
Time
3:30pm - 5:00pm
Cost
FREE for Council members; $20 for non-members
Register