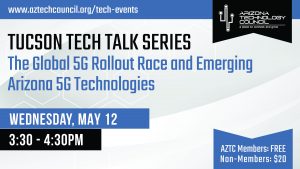 How can Arizona better prepare for the ubiquitous 5G?
What is Arizona's role in the rapidly unfolding $1.3 trillion forecasted (PwC) global 5G economy? What are some key Arizona based emerging technologies? How should Arizona brand itself as a 5G 'hot bed' to compete for 5G related jobs and increasing market share? These are some of the topics and challenges that will be discussed by our expert panelists. Join us to learn the latest about the 5G rollout and how it portends to transform the global economy and what that means to Arizona's future.
Agenda:
3:30pm – 3:35pm  |  Welcome & Opening Remarks 
3:35pm – 4:25pm  |  Panel – The Global 5G Rollout Race and Emerging Arizona 5G Technologies
4:25pm – 4:30pm  |  Audience Q&A
Thank you to our Event Sponsor:
Location
Virtual , Register to Attend!
Venue
Virtual Event
Date
May 12, 2021
Time
3:30pm - 4:30pm
Cost
Free for Council members; $20 for non-members
Register