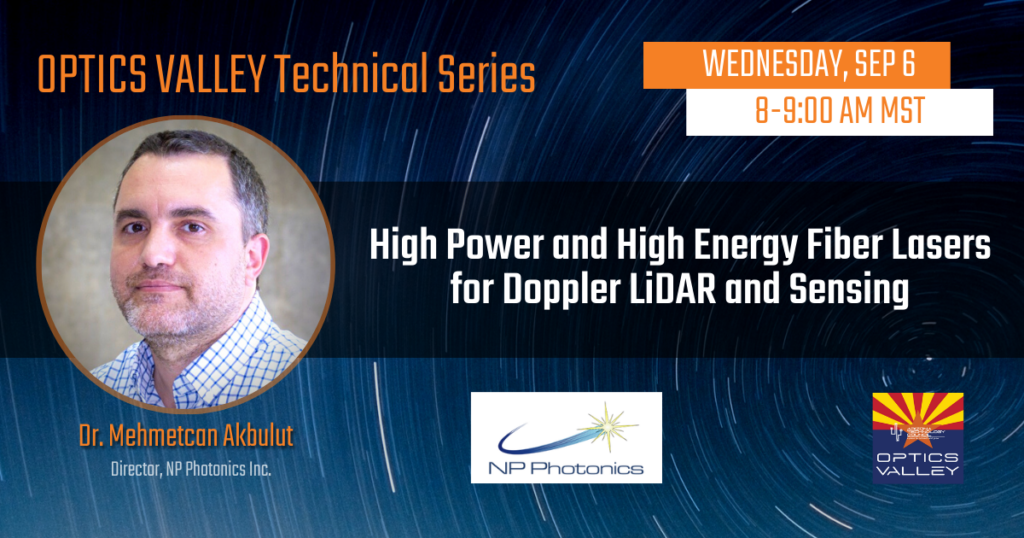 Optics Valley Technical Series: High Power and High Energy Fiber Lasers for Doppler LiDAR and Sensing
Register
Dr. Mehmetcan Akbulut, Director at NP Photonics Inc., will deliver this technical presentation on "High Power and High Energy Fiber Lasers for Doppler LiDAR and Sensing".
In this technical presentation, Dr. Akbulut will describe the latest developments and products for the single-frequency, transform-limited laser market. Potential applications such as coherent Doppler LiDAR, fiber sensing, metrology and quantum science will be interested in learning the results for both high average power and high energy CW and pulsed systems.
About Our Presenter:
Dr. Mehmetcan Akbulut is the Director of High Power Laser and Amplifier Systems at NP Photonics. He has 25 years of experience in the research, design, development, and manufacturing of high energy and high peak power fiber laser and amplifier systems, ultrafast and nonlinear optics, optical fiber telecommunications, and RF photonics. He has authored and co-authored more than 50 journal and conference publications and one patent in these fields.
NP Photonics is a leading manufacturer of fiber lasers and specialty fiber for the sensing, defense, metrology and research markets. NP Photonics proprietary fiber technology is used across a broad family of products, including mid-IR transport fibers and narrow-linewidth, low-phase-noise fiber lasers specifically designed for operation in an industrial environment.
Optics Valley,

a committee of the Arizona Technology Council, is one of the leading clusters for optics, photonics and astronomy in the world. Optics Valley's mission is to catalyze, convene and connect optics, photonics, astronomy and the supporting business interests throughout Arizona.
Presented By
Optics Valley and NP Photonics
Venue
Virtual Event, Register to Attend!
Date
September 6, 2023
Time
8:00 - 9:00 AM MST
Register