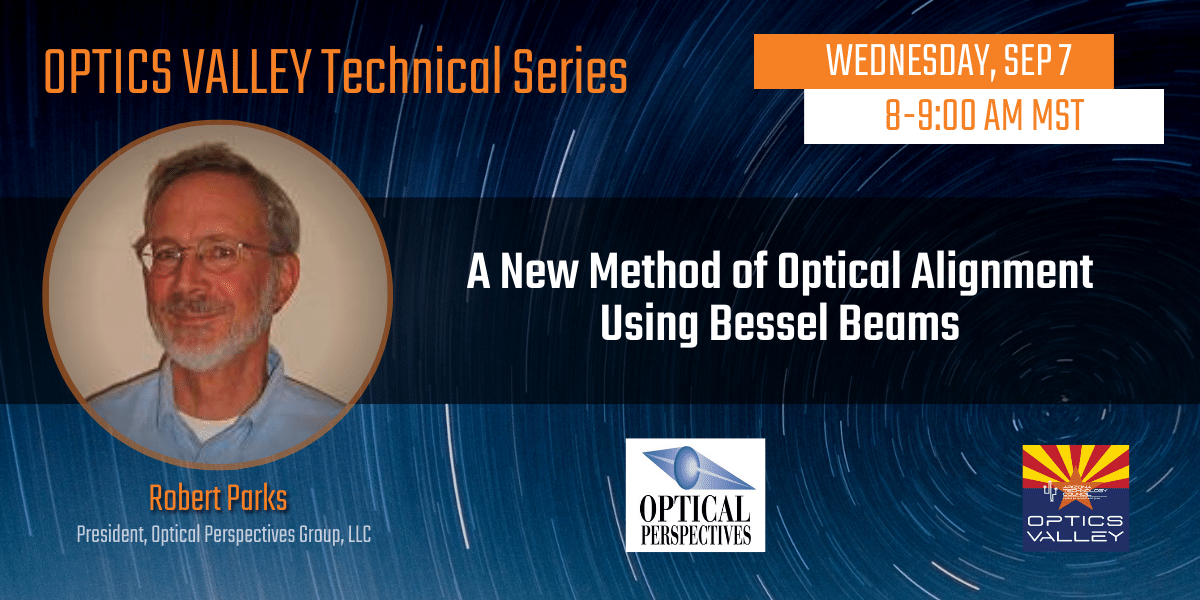 Prior to the invention of the HeNe laser, van Heel used a zone plate to create a light beam that propagated like a laser pointer and used the beam for alignment. He did not realize the beam was a version of what is now called a Bessel beam. In this webinar, Robert Parks of Optical Perspectives Group, will show that with current technology, Bessel beams are created with a core a fraction the diameter of a HeNe laser beam. These beams travel through optical systems as though they are a single ray. Because the beam core is analogous to a theoretical single ray, the beam position and angle can be measured in any axial plane in a lens system. Using this analogy, Mr. Parks will show how Bessel beams are used for optical alignment.
About our Presenter:
Robert E. (Bob) Parks received a BA and MA in physics from Ohio Wesleyan University and Williams College, respectively. He then worked as an optical engineer at Eastman Kodak Company and Itek Corporation prior to gaining optical fabrication experience at Frank Cooke, Inc. In 1976, he went to the Optical Sciences Center at the University of Arizona as manager of the optical shop. Subsequently he was promoted to assistant research professor. In 1992 he started Optical Perspectives Group, LLC along with Wm. P. Kuhn. Currently, he continues to operate OPG as sole proprietor.
| | | |
| --- | --- | --- |
| | | |
| Optical Perspectives Group specializes in easy to use and accurate instruments for aligning and centering optics and optical systems. OPG was founded in 1992 to support optical fabrication and testing, and optical metrology instrument prototyping. The group evolved and since 2006 has focused on classical optical testing, optical assembly and alignment, particularly systems using aspheres. | | Optics Valley, a committee of the Arizona Technology Council, is one of the leading clusters for optics, photonics and astronomy in the world. Optics Valley's mission is to catalyze, convene and connect optics, photonics, astronomy and the supporting business interests throughout Arizona.  |