Elio Motors announces plan to go electric, but Valley company could still face a rocky road ahead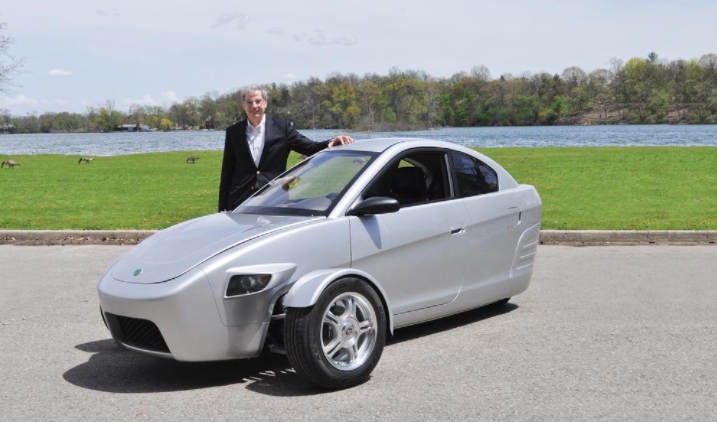 Paul Elio, the man behind Elio Motors, knows what you might be thinking.
"Folks are rightly disappointed. And when you get disappointed, you get angry," he said. "I have all sorts of patience and tolerance for that. I don't like it when they think I'm a scammer."
It's been more than a decade since he founded Elio Motors on the promise of transforming transportation and in that time, Elio's company has collected about $27 million in nonrefundable reservation fees for a vehicle that has yet to be delivered.
The company received more than 65,000 vehicle reservations, including one from Tyler Perkins of Oklahoma City. Perkins, 28, put down a $100 refundable deposit in September 2014, but kicked it up to a $500 nonrefundable option to secure a discounted price when he thought the company was approaching production.
"I guess I'm a little sour about it," he said. "I got a T-shirt from back in the day, bumper stickers they sent me so that was nice… it was an expensive T-shirt."
Perkins and other Elio reservation holders told the Business Journal that they understood the risks when investing in a car-making startup, and still expressed affinity for the Elio design and mission, but are disappointed by the lack of delivery.
The company's tiny, three-wheeled car attracted national attention a few years ago, but after struggling to secure financing, the car has never reached the production line.
Elio, 57, is gambling on a new plan to finally bring his three-wheeled wonder to life: Go electric.
The previous incarnation (the Elio model-G) was famously marketed as getting up to 84 miles per gallon and selling for $7,450, but in an interview with the Business Journal, Elio said that bringing a gasoline powered car to market in 2021 is not realistic.
Share price jumps
Instead, the company now says it will utilize the existing design from the gasoline model and outfit the vehicle to run on an electric battery. The new electric model, dubbed the Elio-E, is targeted to sell for $14,900.
The EV announcement on Sept. 9 induced a jump in the Elio Motors (OTCQB: ELIO) share price in the past week; Shares opened at 31 cents on Sept. 7, reached more than $1.50 following the announcement and closed out the week trading at 83 cents. Follow the stock here.
After neglecting to file new documents with the Securities and Exchange Commission for years, Elio Motors submitted three annual reports to the SEC on Sept. 8, which detail a rocky financial picture for the company including more than $27 million in outstanding debt.
In the annual report for 2020, the company said it plans to raise capital through debt and equity placements until it reaches commercialization; But until the car rolls off the production line, Elio Motors acknowledged it will continue incurring significant losses. In fact, the company's recent annual reports were made on a "going concern" basis, meaning there's a measure of uncertainty that the company will be able to continue functioning. 
The company has also revamped its website, which now says the electric Elio will have a top speed of 110 miles per hour and get at least 150 miles per charge. 
Elio would not say the exact amount of money the company needs to raise before it can begin production, but he said it would be hundreds of millions. The company, which had just two full-time employees at the end of 2020, brought in a Paycheck Protection Program loan worth $110,000 in April 2020, records from the Small Business Administration show.
Founded in 2009, Elio Motors reports spending nearly $40 million on the vehicle design so far. Interested customers will have to keep waiting, as first deliveries are not expected until 2023 at the earliest.
Trouble down south
Elio plans to manufacture its vehicles in Shreveport, Louisiana at a factory previously occupied by General Motors. 
In 2013 Elio Motors got a $23 million loan from RACER Trust, a group organized to redevelop old GM properties, to purchase manufacturing equipment at the plant. The real property was then purchased by Stuart Lichter, a real estate mogul that founded Los Angeles-based Industrial Realty Group LLC in 1974. Lichter sits on the Elio Motors board.
Lichter, through a subsidiary called Shreveport Business Park LLC, leases several hundred thousand square feet of the plant to Elio, and though the company is not making cars there yet, it stores about $11.9 million worth of manufacturing equipment on site.
Elios Motors made a splash in Shreveport as it sold its vision of revitalizing the old plant, most recently by saying production would start there in 2019.
However, the Arizona company also caught the attention of regulators, and in 2017 the Louisiana Motor Vehicle Commission determined that Elio Motors was operating as a manufacturer and dealer without the proper licensing, a claim the company contests.
Elio Motors was fined $545,000 for violating state licensing laws and in order to appeal the ruling the company had to move $76,500 into a trust account; Elio appealed the fine to the Louisiana's Fifth Circuit Court of Appeals, which ruled in favor of the LMVC in March 2019 by affirming the findings that the company violated the state law. Elio Motors reported related legal expenses of more than $2.7 million for the years 2019 and 2020.
When asked if the company had paid the fine, Paul Elio simply said, "We are trying to have a dialogue with them." SEC filings said the company is in active settlement discussions.
Promises made
What's more, the company is locked into promises it made years ago assuming it would be selling cars by now. In 2013, as part of its purchase agreement to buy manufacturing equipment from RACER Trust, Elio Motors agreed to create 1,500 jobs in Shreveport.
Elio agreed that if it had not created 1,500 new jobs by February 2016, it would pay RACER $5,000 for each full-time job below the required number. RACER Trust has amended and extended this deadline several times, but Elio Motors still reports racking up $7.5 million in related expenses through December 2020.
The company has also reported secured loans worth more than $27 million, with the manufacturing equipment in Louisiana on the line as collateral. Elio Motors had an accumulated deficit of $215.8 million in December 2020 and a working capital deficit exceeding $104 million, according to the company's 2020 annual report.
Vehicle reservations
Elio Motors has received 65,000 vehicle reservations over the years, the vast majority of which were nonrefundable. The company told the SEC that it had previously brought in $26.9 million of nonrefundable deposits as of 2020 and another $1.1 million in refundable deposits.
Robert Martin in Nashville put down a $1,000 nonrefundable reservation around 2014, which was the maximum deposit amount. He described himself as a car enthusiast and said he'd still like to own an Elio one day, but he'd like better communication from the company.
"I would love to hear something from him," he said of Paul Elio. "Just a status update, give us something, you know? Create some sort of Twitter account or social media and start providing us with some sort of hope."
More than 57,000 reservation holders were also able to lock in promotional pricing of either $7,300 or $7,000 per vehicle, according to the company's SEC filings, which would be good news for them if they still want to drive an Elio that is now slated to sell for about $15,000.
Elio said the reservations are transferable to the electric Elio, but the company will have to assess demand for the gasoline version and decide how to handle the reservation holders that don't want an EV.
Hope springs eternal
Elio has maintained a positive attitude, despite the setbacks.
"Fortunately, there are way more people who are believers than are naysayers," he said in an interview just ahead of the EV announcement. "I still get kind emails cheering us on."
Elio said he has made numerous sacrifices over the years to try to bring his vehicle to life. He's missed milestones in his kids' lives, spent countless hours trying to make the company work and claims he's put $5 million of his own money into the company.
The company was built on a vision of sustainability and greater access for people at all income levels, a selling point that still rings in the minds of people that made Elio reservations years ago. There's still a devoted group of Elio hopefuls holding out hope that they may one day see this vehicle in their driveway.
ElioOwners.com, a web forum dedicated to fans of the car, lit up with new comments in the past week after the company sent out an email to reservation holders about the plan to go electric. The announcement was met with confusion, excitement, anger and plenty of skepticism.
"If you read through all that, it doesn't look good," one commenter said of the new SEC filings. "It will take a miracle for Elio Motors to come to market with a mass produced vehicle."
---
Visit www.aztechcouncil.org/tech-events to view all of the Council's upcoming virtual tech networking opportunities, engaging virtual tech events and in-person tech events.
---