Electric vehicle maker acquires large site in West Valley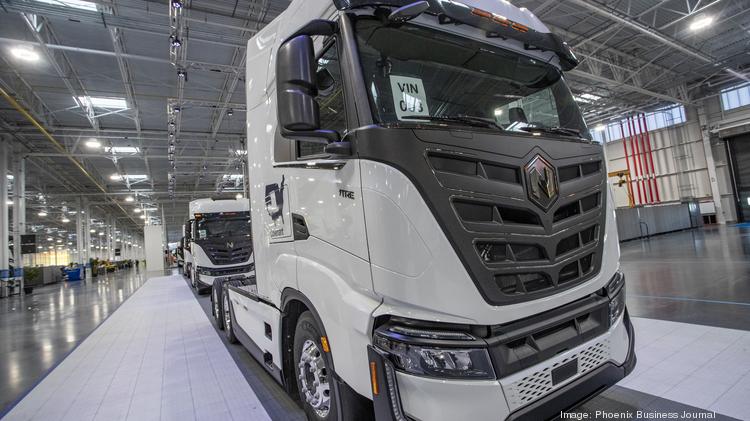 Arizona-based vehicle maker Nikola Corp. quietly purchased nearly 1,000 acres in the Phoenix metro at the end of September for $16.5 million, according to Maricopa County records.
Nikola (Nasdaq: NKLA) acquired the 920-acre site through Phoenix Hydrogen Hub LLC from Hardison Farms on Sept. 30, real estate database Vizzda shows. George Quinif of Peak Group LLC represented Nikola in the sale.
The massive site is located at 28702 W. Patterson Road in south Buckeye just west of State Route 85 near the Arizona Department of Corrections Lewis Prison, which is one of the largest prisons in the state and houses more than 4,400 inmates.
The sale comes after Nikola made multiple announcements that it planned to break ground on a hydrogen production hub in Arizona. The company's CEO said in August that Nikola would start construction on the new facility by the end of this year but did not disclose the location.
According to the Arizona Corporation Commission, Corey Hessen and Omar Khayum, senior vice president and vice president of Canada-based TC Energy, respectively, are the managers of Phoenix Hydrogen Hub LLC. Oil and gas giant TC Energy partnered with Nikola last year to develop large-scale hydrogen production hubs across the U.S. and Canada.
Nikola hasn't confirmed, though, whether it plans to build a hydrogen production hub in Buckeye. Nikola said it has no comment about the Buckeye land sale or its plans for the property. The city of Buckeye said nothing has progressed with the company beyond negotiations.
The automaker is currently producing battery electric vehicles and has produced several alpha prototypes of its fuel cell electric vehicles, which run on hydrogen. Nikola is planning to build out a hydrogen fueling network to support its vehicles. Its first three locations will be established in California.
In addition to the fueling stations, the company said it was creating a hydrogen production hub in Arizona. The FCEV trucks are expected to be available next year. The U.S. Department of Energy said FCEVs and the hydrogen infrastructure to fuel them are in the early stages of implementation. Truck manufacturers are also looking to hydrogen fuel cells to replace diesel engines for long distance travel.
Nikola originally announced plans in 2018 to build its vehicle manufacturing plant at a different site in Buckeye but chose Coolidge instead because of available infrastructure and wanting to build and start operations quickly.
Nikola is one of several large manufacturers that has a large presence in the state and wants to build out its supply chain in Pinal County and Arizona. At a recent panel, Britton Worthen, a chief legal officer for Nikola, said it is continuing discussions to bring partners in and colocate them near their plant.
Nikola vehicles recalled, founder found guilty of fraud
In September, Nikola recalled all of the vehicles it had produced to date because of an issue with seat belts. The company has made 93 electric trucks so far, and all of them need to be reserviced to correct the seat belt issue. All of its vehicles have been manufactured at the company's Coolidge factory.
The vehicle maker reported revenue of $18.1 million for the quarter ended June 30, ahead of the Wall Street expectation of $16.46 million. The company also reported a net loss per share of 25 cents, again outpacing analyst expectations of a 28 cent loss.
Nikola's high-profile competitor, Tesla, said last week that it is finally ready to begin production of its own electric semi truck. Tesla said it would deliver its first trucks to PepsiCo — which had agreed back in 2017 to purchase some of the vehicles — in early December. In a tweet about the vehicle, Elon Musk said the semi truck would have a 500-mile range.
On Friday, Nikola's founder and former executive chairman Trevor Milton was found guilty of fraud based on allegations he had lied about the electric vehicle company's technology.
Reuters reported that after five hours of deliberation a federal jury found Milton guilty of one count of securities fraud and two counts of wire fraud. He was acquitted of one additional count of securities fraud.
Nikola's share price closed on Friday at $3.06, which is down 1.29% from the previous trading session. Follow the stock here.
---
Register for the Council's upcoming Phoenix and Tucson tech events and Optics Valley optics + photonics events.
---