Cybersecurity Summit provides insight and solutions to biggest threat to Arizona businesses
Beware and be prepared: CyberSummit delivers strategies and best practices 
by Nancy A. Shenker, Guest Contributor
With so much of our daily lives conducted online these days, it's critical to understand the threats, vulnerabilities and consequences related to data security and privacy matters. Studies estimate that cyber crime costs the global economy over $400 billion per year. As a result, companies and organizations all over the world are making cybersecurity a top priority, setting up standards for cyber security protocol and putting actionable solutions into place.
"Cybersecurity is not a spectator sport," asserted Frank J. Grimmelmann of the Arizona Cyber Threat Response Alliance (ACTRA) as he introduced a dynamic panel at the Arizona Technology Council's recent Cybersecurity Summit.
Smart businesses throughout Arizona are focused not only on growing their companies but on protecting their assets. Security has become an important part of both our national and global agenda. Gov. Ducey has established the Arizona Cybersecurity Team (ACT) to spot issues and mitigate risk.
Sandra Watson, president & CEO of the Arizona Commerce Authority, pointed out that the number of known cyberattacks is up to 160,000 and has doubled in just one year. As many as 93% could have been prevented, she said.
Linda Medler, Principal of Medler & Associates, stressed the need to get students excited about pursuing careers in the cybersecurity industry, which is currently valued at $120 billion. Arizona has the sixth highest concentration of cyber talent in the country.
"The calvary aren't coming to your rescue," Medler cautioned as she stressed the importance of involvement of private industry in problem-spotting and problem-solving. "If we want to change the cybersecurity world, we need to collaborate and partner with other geographies and with each other."
Arthur Hansen, principal architect of World Wide Technology, pointed out that increasing the cost of hacking is just one solution. By building a talent team that works at a rapid pace Arizona, can stay one step ahead of threats to data and business operations.
Michael McAndrews, a former FBI special agent who is now part of WGM Security & Technology Services' cyber-protection services team, delivered an engaging and eye-opening keynote on the dark web, making attendees aware of all the sites and systems that facilitate illegal transactions and data breaches.
"The dark web is like a really bad neighborhood…guns, drugs and malware," McAndrews said. "And if you do decide to go to this bad neighborhood….look, don't touch."
The closing panel, "Threat Intel for the Business World," reinforced the importance of information-sharing and collaboration across industries in problem-solving. As Senior Security Consultant Bob Franklin noted, "A cyberattack may occur in the manufacturing industry as a practice run for application in the financial world. Threat intel is everybody's business."
The adage, "If you see something, say something" seems especially true when discussing cyber attacks. Among the solutions pointed out by the panel were:
Respond quickly to threats by sharing news and solutions across  social media.
Red-team risks: In other words, use an independent group to identify possible weak spots within an organization.
Create a phish tank within your organization: Eli Woodward, senior security analyst with Maricopa County Information Security, uses that methodology to report and share suspicious communications. (Phishing is a cybercrime in which a target is contacted by email, phone, or text by someone posing as a legitimate institution.)
Engage a managed services security provider (MSSP) to work closely with your organization to identify and preempt cyberattacks.
Make sure that threat intelligence (TI) is part of any merger and acquisition process for your business.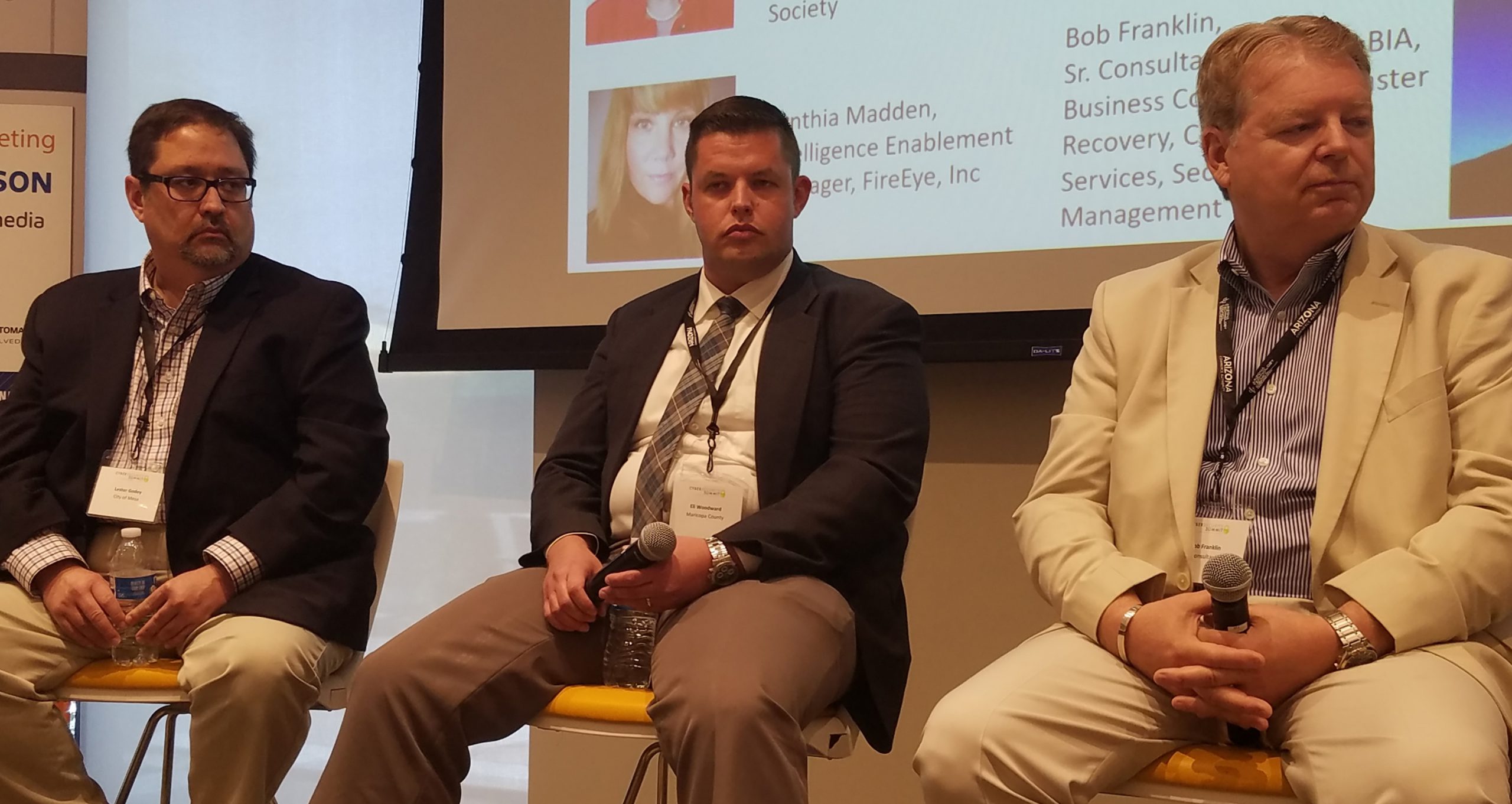 "Set the bar low…your weakest link is just as vulnerable as your strongest link," Woodward said.
It's not just knowing and capturing the threat, but it's what you do to prevent and solve it, was the key takeaway from the enlightening session.
Solutions abounded at the event, as 11 exhibition sponsors presented their services to guests at a tabletop display. Exhibitors included ACTRA, Arizona Technology Council, Pacific Office Automation, KEO Marketing, Sumo Logic, TEKsystems, Service Guru, Darktrace, Alagen, Fortinet and AccountabilIT.
Like other Arizona Technology Council events, the 2019 CyberSummit not only presented a relevant issue facing businesses today but also gave attendees easy and accessible access to connections and partnerships.
---
Nancy A Shenker is CEO of theONswitch. A marketing strategist and brand storyteller, Shenker has a passion for start-ups and transformations. She helps business owners and CEOs succeed through a variety of strategies and tactics, including marketing planning, content marketing, guerrilla marketing, public relations and much more.