Cyber students set up Basha servers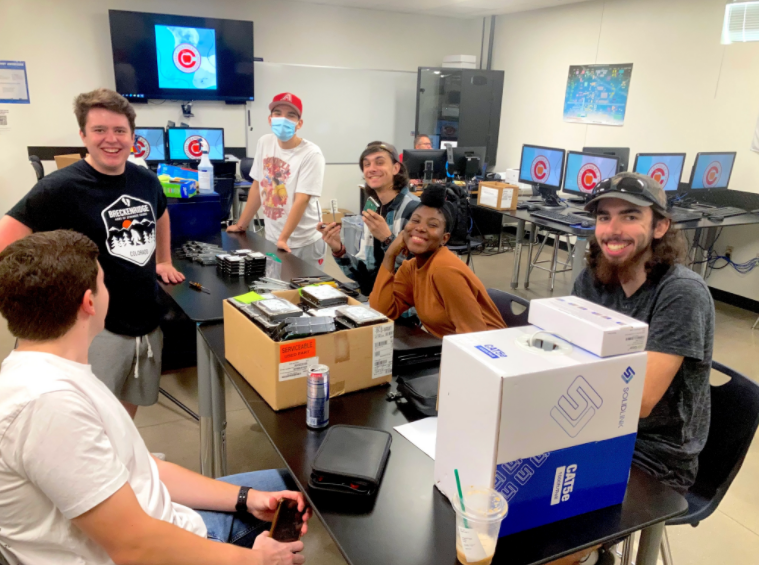 University of Advancing Technology Blog
University of Advancing Technology (UAT) cyber security students visited Basha High School on Saturday, November 20, 2021, for a community event to help with their servers and equipment for students. 
Aaron Jones, UAT Cyber & Network Security Program Champion, took 14 students to the school in Chandler, Arizona, to assist with putting together servers, installing software/operating devices, and begin the process of networking the devices. The students worked with Basha faculty to get the new system fully up and running! Participating students included (with LinkedIn links if available):
Jarrod Touchton: www.linkedin.com/in/jerrod-touchton-3b0861205 
Mathew Quinn: http://linkedin.com/in/mathew-quinn-4495b81b1 
Zachary Brown: https://www.linkedin.com/in/zachary-brown-5b7099198 
David Lujan
Matthew Reynolds: https://www.linkedin.com/in/matthew-reynolds-157a13199 
Jonathon Cillian 
Kevin Duong 
Christella Cyprien: https://www.linkedin.com/in/christelle-c-567a461a5  
Allan Wheelock: https://www.linkedin.com/in/allan-wheelock-179946168 
Hunter Autrey: https://www.linkedin.com/in/hunter-autrey-825387171/  
Samuel Roethemeyer
Micah Turpin: https://www.linkedin.com/in/micah-turpin-1242ba1a4/ 
Nicole Lindahl: https://www.linkedin.com/in/nicole-lindahl-9652179b  
Dakota Engelbeck: https://www.linkedin.com/in/dakota-engelbeck-358408198/ 
According to Jones, "All of the students had fun and are looking forward to finding more ways to give back to the community!"
Improving quality of life and giving to the community are common themes in our student innovations. In fact, to graduate, students are required to complete and present a Student Innovation Project, or SIP. At UAT, this becomes the leading project in a student's portfolio when they graduate and enter the workforce. Community projects like these at Basha help give them real-world experience as they study and complete their projects. 
Participating student Matthew Reynolds was excited to take his skills to the school, commenting, "I really enjoyed going out to help Basha High School. Not only did I get to meet a ton of cool people who were into the same stuff as me, but we also got to give back to the community and help out—which was a really good feeling!" 
Want help from UAT students? Visit our website to request an internship at https://www.uat.edu/internships.
---
Visit www.aztechcouncil.org/tech-events to view all of the Council's upcoming virtual tech networking opportunities, engaging virtual tech events and in-person tech events.
---