Climate tech company CarbonCapture partners with ASU to design regional hub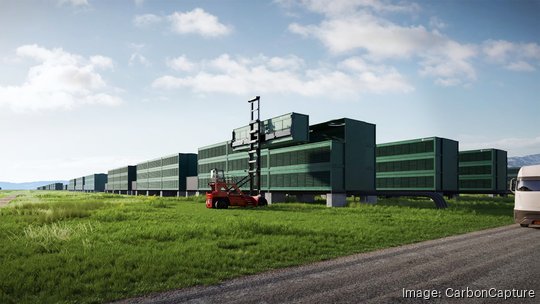 A Los Angeles-based startup is partnering with Arizona State University to design a regional carbon dioxide capture hub that could spur significant job creation and position the Grand Canyon State as a leader in the climate tech industry.
CarbonCapture — which makes direct air capture machines to remove carbon dioxide from the atmosphere — ASU and industry partners are in discussions with the U.S. Department of Energy for potential funding to conduct an engineering and design study for a multi-site hub in the Southwest.
The hub would consist of three potential sites at St. Johns Dome in east central Arizona, the Paradox Basin in southeast Utah and the San Juan Basin in northwestern New Mexico. It would include technologies from CarbonCapture and ASU spinout company CarbonCollect, said Gary Dirks, senior director of ASU's Julie Ann Wrigley Global Futures ​Laboratory and LightWorks.
The Arizona site, specifically, will be co-located on land occupied by Proton Green's helium plant at St. Johns Dome, Dirks said.
"Assuming the studies were positive and the design looked attractive, the next phase would be to build out the site, so that it could be used by companies — like the two we are partnering with — to capture CO2, move that CO2 to a well site and inject it into storage strata underground," said Dirks, who is principal investigator for the project. "That would occur in a future phase."
Arizona site potentially 'hundreds of acres'
While the amount of acreage for the carbon collection sites has not yet been determined, each is likely to consist of "hundreds of acres," Dirks added.
"They will be significant sites," Dirks said. "The other thing to keep in mind is these will be powered with renewable energy so you will also have solar fields and possibly wind power fields that will be associated with these sites as well."
Depending upon discussions with the Department of Energy, the hub's design phase could be underway as early as November with the study concluding in two years.
"At that point, we would apply for the build phase and that's half a billion dollars and that would go into building," Dirks said. "Following the DOE program, the earliest I would see any significant amounts of CO2 being stored (at the Arizona site) is three years."
While it's too early to specify workforce creation numbers associated with the proposed Arizona carbon collection site, it would be "quite a large number" of jobs that would benefit residents of nearby St. Johns and Springerville, Dirks said.
"Almost certainly, it will attract other investment from groups interested in using that CO2," he added.
CarbonCapture receives Amazon investment
In addition to its partnership with ASU, CarbonCapture this week announced an undisclosed investment from Amazon's Climate Pledge Fund. It will work with Amazon to make 100,000 tons of carbon removal credits available to businesses within the company and its suppliers, partners and customers.
CarbonCapture manufactures modular direct air capture machines that use solid sorbents to soak up atmospheric carbon dioxide when cooled and release concentrated carbon dioxide when heated. The captured carbon dioxide can be permanently stored underground or used to make synthetic fuels, low-carbon concrete or other industrial products that require clean carbon dioxide.
"Arizona is an ideal place for a direct air capture company to deploy," Adrian Corless, CarbonCapture CEO and CTO, said in a statement. "With plentiful renewable energy resources, a highly educated workforce, and world-class academic institutions, it's an obvious choice. In addition to our partnership with ASU, we're evaluating multiple manufacturing sites in and around Greater Phoenix that would allow us to leverage the region's first-class industrial infrastructure."
CarbonCapture was not immediately available for comment on its partnership with ASU nor its expansion plans in the Valley.
The 'New Photon Economy'
Last month, the Greater Phoenix Economic Council convened regional leaders in a virtual event detailing a vision for "the New Photon Economy," which is a strategy to leverage the Valley's natural resources to replace energy from fossil fuels and attract climate tech companies.
The Arizona Board of Regents, CarbonCapture and industry leaders formed the Southwest Regional Direct Air Capture Hub to lead federal funding efforts and conduct a design study for the carbon removal site in Arizona.
ASU President Michael Crow said in a statement the hub represents a "once-in-a-generation opportunity" to leverage the state's business-friendly infrastructure and renewable energy assets to become a leading climate tech center in the U.S.
"Our vision is to usher Greater Phoenix into a new era, which we call The New Photon Economy," Crow said. "To fully realize this potential and drive our economic progress, we need to cultivate leading startups like CarbonCapture, whose mission to decarbonize the atmosphere is both audacious and inspiring. It's a perfect fit for ASU and Arizona."