Clean energy news: April 2022
Queen Creek is new home for high-tech battery facility
Queen Creek is set to be home to a battery manufacturing facility. A global battery producer for next-generation technologies, LG Energy Solution (LGES) announced last month it is initially investing $1.4 billion to build its first ever cylindrical-type battery facility in North America. The amount of investment could grow further. The company expects that the new facility will be able to employ a few thousand people, with construction starting this summer and production commencing in 2024. Read more >>
---
Arizona lawmakers pass bill to restrict competition in electricity market
Both chambers of Arizona's legislature have now approved legislation that would eliminate future competition in the state's electricity generation market, following a Senate vote on Tuesday. HB2101 revises current law to close the door on future entrants joining the market, which maintains the monopoly that current providers hold. The bill was supported by Arizona Public Service and Tucson Electric Provider, the state's two largest investor-owned electricity providers, as well as the Salt River Project. Read more >>
---
How businesses can cash in on infrastructure dollars coming to Arizona
Arizona will receive $12.8 million flowing from the $1.2 trillion Infrastructure Investment and Jobs Act (Act) to help the state recover from three major wildfires. Arizona's water authority also recently received $18.5 million The new funding will support the creation of wastewater treatment plants, water pipelines, flood detention and filtration treatments for rural and Native American communities.  The funding allocation, among the first coming to Arizona, is a clear signal for businesses to begin researching how they can provide infrastructure products and services as more federal infrastructure funding comes to Arizona. Read more >>
---
Utility company makes progress on infrastructure for Taiwan Semiconductor project in north Phoenix 
Electric utility company Arizona Public Service has made progress on infrastructure needed to power the massive Taiwan Semiconductor Manufacturing Co. facility in north Phoenix. APS is currently relocating three major sets of transmission lines, including a 500 kilovolts, 230-kilovolt and a couple of 69-kilovolt lines, so TSMC and gas-provider Linde can build on the 1,100-acre property. Read more >>
---
Federal infrastructure funds are flowing into Arizona: How local businesses tap in
Arizona will receive $12.8 million flowing from the $1.2 trillion Infrastructure Investment and Jobs Act (Act) to help the state recover from three major wildfires. Arizona's water authority also recently received $18.5 million The new funding will support the creation of wastewater treatment plants, water pipelines, flood detention and filtration treatments for rural and Native American communities. The funding allocation, among the first coming to Arizona, is a clear signal for businesses to begin researching how they can provide infrastructure products and services as more federal infrastructure funding comes to Arizona. Read more >>
---
Study looks at attitudes toward plastic, sustainability and climate change
Footprint, a global materials science technology company focused on creating a healthy planet, today released the results of a multi-country research study examining consumer attitudes toward single-use plastics and the expectations they have of brands and retailers to provide more sustainable options. The study, which was conducted by Wunderman Thompson Intelligence on behalf of Footprint, dove into attitudes among consumers in the United States, United Kingdom, France, Germany and the Netherlands, and looked at how COVID-19 played a role in those sentiments. Read more >>
---
Valley solar services company plans further push into rental market after $20M raise
Less than a year after its series A funding round, Chandler-based solar energy company Elevation Home Energy Solutions has closed its series B round after raising $20 million. Bernhard Capital Partners Management LP kicked in the newest chunk of capital earlier this month to support Elevation's continued expansion to renters and the rental market. Read more >>
---
How the PHX East Valley is transforming electric vehicles industry
On Feb. 10, 2022, the U.S. Departments of Transportation and Energy announced that nearly $5 billion will be made available to states over five years as part of the Infrastructure Investment and Jobs Act. Arizona is expected to receive approximately $76.5 million over that period to help create a national electric vehicles (EV) charging network. According to the Department of Energy's Alternative Fuels Data Center, Arizona currently has 873 public charging stations and ranks seventh in the nation for adoption with its 28,770 registered EVs. Read more >>
---
Recycling solar panels is complicated. Here's how one Yuma company does it.
Tucked between warehouses near the airport, We Recycle Solar is repurposing, reusing and recycling the growing supply of panels that have passed their expected lifespan of 30 years. Through multiple processes, the company refurbishes salvageable solar photovoltaic panels and breaks down worn-out panels into aluminum, granular glass and other materials that can be reused. Read more >>
---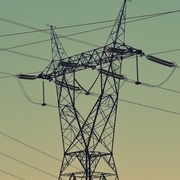 Energy companies engage Utilicast to oversee strategic improvement planning
The Western Markets Exploratory Group (WMEG) announced the hiring of Utilicast, an energy consulting company, to evaluate regional market structures to improve affordability, reliability, and decarbonization opportunities across the West. The WMEG, which is made up of 14 western utilities, plans to explore the potential for a staged approach to new market services including day-ahead energy sales, transmission system expansion, power supply and grid solutions, and existing and emerging public policies. Read more >>
---
Science needs data to solve problems. Climate change is making that harder.
Sometimes science becomes too hot to handle. That's what researchers at the University of Arizona found recently when they tried to test a new air pollution monitoring system around Tucson. The scientists set out to install new equipment and implement a standardized protocol for monitoring levels of NO2, NOx, PM-2.5 and PM-10, four common air pollutants, that is already being used in 16 European countries. Read more >>
---
How high gasoline prices are affecting transportation across Arizona
The dramatic rise in fuel prices across the country has prompted ride-hailing companies to add surcharges and pushed commuters to seek more cost-effective methods of transportation. Arizona is among the top 10 most expensive markets for gas, averaging $4.62 a gallon, according to AAA data. AAA spokesperson John Treanor said fuel prices are determined by the price of crude oil per barrel, which skyrocketed after the U.S. and European countries sanctioned exports of oil from Russia, one of the world's biggest producers. Read more >>
---
How EVs will revolutionize transportation needs for small businesses
Just about everyone has felt the pinch at the gas pump over the last few months, and electric vehicles are proving to be a wiser investment option for small business owners. Electric vehicles (EVs) contribute to cleaner air, reduced transportation costs and lower operating costs compared to diesel and petrol equivalents. Transitioning to electric vehicles can be a savvy move for small businesses. Charging station infrastructure is currently being developed and it appears a full adoption of electric vehicles is around the corner. Read more >>
---
Intel pledges net-zero greenhouse gas emissions by 2040
Semiconductor giant Intel said Wednesday that it would reduce its greenhouse gas emissions to net-zero by 2040 to decrease the firm's contributions to climate change. Intel Corp. (Nasdaq: INTC) said it would boost its energy efficiency and lower the carbon footprint of its products in the years to come, starting with interim goals, including spending $300 million to improve energy conservation at existing facilities, building new factories at U.S. Green Building Council LEED standards and switching to 100% renewable electricity across global operations by 2030. Read more >>
---
Register for the Council's upcoming Phoenix and Tucson tech events and Optics Valley optics + photonics events.
---