In the startup world, raising capital is like a second job for many founders, including Rebecca Clyde, the co-founder and CEO of Botco.ai in Scottsdale.
Earlier this year, in the midst of raising seed funding, Clyde was reading a Wall Street Journal story about Los Angeles-based Vamos Ventures when she decided to get in touch.
"It was one of the very few funds I had seen, out in the wild, that focused on Latinx founders," she said. "I just reached out to them cold on their website, they had a form and I just said, 'Hey, this is my company. This is what we do. This is where we're at.' And I submitted a cold form. That's why I say it's funny, because most of the time those kinds of inquiries go nowhere."
But unlike most cold notes, Clyde's message resulted in new funding for Botco, which makes an artificial intelligence chatbot for health care customers dealing with high volumes of customer inquiries.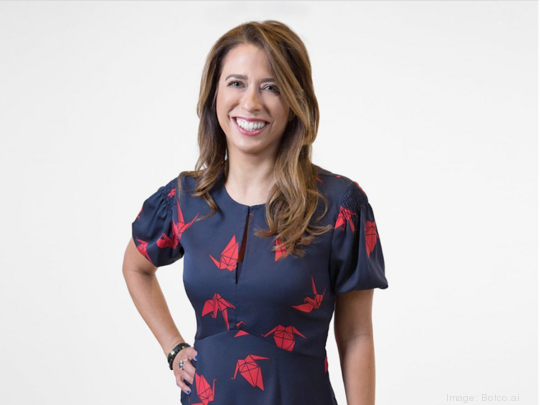 Specifically, Vamos Ventures led a $1.4 million investment into Botco, with additional particpation from Sterling Road and Arizona Tech Investors, which caps off the company's seed round of $3.6 million. The Business Journal previously spoke to Clyde in February after Botco had closed on earlier seed funding.
Clyde is from Costa Rica and she came to the U.S. for college. She relocated to the states more permanently in her 20s when she took a job with Intel Corp. that landed her in Arizona.
She said investing in companies run by women and people of color is smart because in just a few years' time the country's ethnic makeup will look different than it does today.
"I believe that big problems of the future are going to be solved by founders that are of a more diverse background," she said. "Now is the time to invest in what the future generation of founders really looks like."
Growing the business
Botco makes a HIPAA-compliant conversational marketing and chat platform, primarily used by customers in and around health care and wellness.
For example, Botco works with Phoenix-based STChealth to answer questions that patients might have about their immunization records and with urgent care provider American Family Care to schedule visits, answer patient questions and more.
Clyde said the company has been busy hiring in the past couple months, adding engineers and sales people to its team which now counts 25 employees. Clyde said Botco has also doubled its customer count since February and is now working with nearly 30 other companies.
With fundraising closed, for the time being, Clyde said her biggest focus is simply growing the business, with the goal of doubling or tripling revenue between now and the end of 2022.
Better access to funding
Venture capitalists have been funding deals at an incredible pace during the Covid-19 pandemic — 2021 has seen more than $150 billion in US VC deals, on the way to breaking 2020 records  — but most of that money goes to companies run by white men.
Data from Crunchbase, a website that tracks information on public and private companies, shows that just 2.3 percent of global VC investment dollars went to female founders last year; Crunchbase also found that Black and Latinx founders got just 2.6 percent of all VC dollars through the first eight months of 2020.
Vamos Ventures, and other funds like it, was organized to combat this disparity by directing funding to entrepreneurs from underrepresented communities.
For Clyde, an immigrant from Latin America, her background makes her better at running Botco.
"I don't complain about the fact that maybe things have been harder for me, I actually see it as an opportunity," she said. "Because of that, I have more resilience, I have all of those things I can apply to my business."
In the U.S., more than 204 million people identify as white alone, making whites the largest ethnic group in the country, according to the Census Bureau. But white people's numbers are dwindling; from 2010 to 2020 America's white population decreased by 8.6%.
At the same time, all other racial and ethnic populations (including mixed-race people) grew in the past decade, putting the U.S. on course to become a so-called "majority minority" nation. In Arizona, the Latino or Hispanic population in particular is set to grow extensively in the coming decades. 
Clyde said the obstacles that people of color face breed determination, an essential quality for founders.
"That's the other really great benefit that underrepresented minority founders can bring to the table, is just more grit like this to arrive at where we are," she said. "The idea of quitting is not even an option."
---
Visit www.aztechcouncil.org/tech-events to view all of the Council's upcoming virtual tech networking opportunities, engaging virtual tech events and in-person tech events.
---