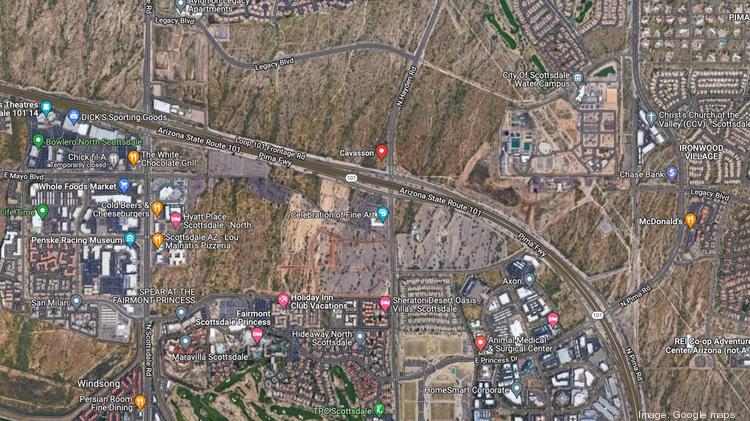 Banner Health — the state's largest health system and among the largest in the nation — is about to get even bigger. The nonprofit health system is in preliminary plans to buy land for a new hospital in north Scottsdale.
The Phoenix-based health system is working with city of Scottsdale and Arizona State Land Department in an effort to buy 40 to 50 acres at the northeast corner of Loop 101 and Hayden Road. That site is across the street from Cavasson, Nationwide Realty Investors' master-planned development on the northwest corner of Loop 101 and Hayden Road that is proposed to include a residential health care facility.
The land Banner officials have their eye on is managed by the Arizona State Land Department, which would auction the property in a competitive bidding process. An auction has not yet been set, according to the state land department.
There are about 185 acres of State Trust Land on the northeast corner of Loop 101 and Hayden Road, according to a spokesman for the Arizona State Land Department.
Banner submitted an application to purchase about 40 acres of that land, he said.
"An appraisal has not been completed, nor has an auction date been set," he said.
Strong demographics
Becky Armendariz, associate vice president of marketing and public relations for Banner, confirmed the company's interest in the land and said phased development on an upward of 50 acres would begin in 2023 if Banner is the winning bidder.
"Banner Health, Arizona's leading health care provider, is pursuing opportunities to expand its service delivery network to further meet the health care needs of the communities and customers we serve," she said. "One of these opportunities exists in the northeast Valley of Maricopa County, where Banner Health intends to expand physician and ambulatory services and acquire land for new facilities to address the growing health care needs of that community and members of Banner's insurance products."
Banner Health employs 52,000 people at 30 hospitals, 50 urgent care centers and hundreds of health centers and clinics in six states.
In January 2018, Banner opened a 30,000-square-foot health clinic across from Desert Ridge Corporate Center, so that location must be doing well for them, said Julie Johnson, a long-time medical office broker and executive vice president for Colliers International in Arizona.
Plus, she said, Nationwide is pre-leasing two 50,000-square-foot medical office buildings at Cavasson.
Nationwide executives declined comment.
"The north Scottsdale area has been an excellent location for continued growth in health care," Johnson said. "With the strong demographics of high population growth and high income, it's a very good market for health-care providers."
The location along Loop 101 provides good accessibility or patients to drive to this new Banner location, not to mention the visibility and signage the freeway provides, she said.
Mayo Clinic's hospital campus is less than four miles west of this proposed location, providing competition for Banner's patients.
"Mayo is known for their national and international reach for their patients and also for their research at this location in collaboration with ASU and their growing bioscience and education campus they have developed there and plan to grow in the future," Johnson said. "Even with another major hospital a close distance away, this impressive location should provide Banner Health with a busy successful hospital location once opened."
---
Register for the Council's upcoming Phoenix and Tucson tech events and Optics Valley optics + photonics events.
---