Axon unveils virtual reality simulator training for law enforcement agencies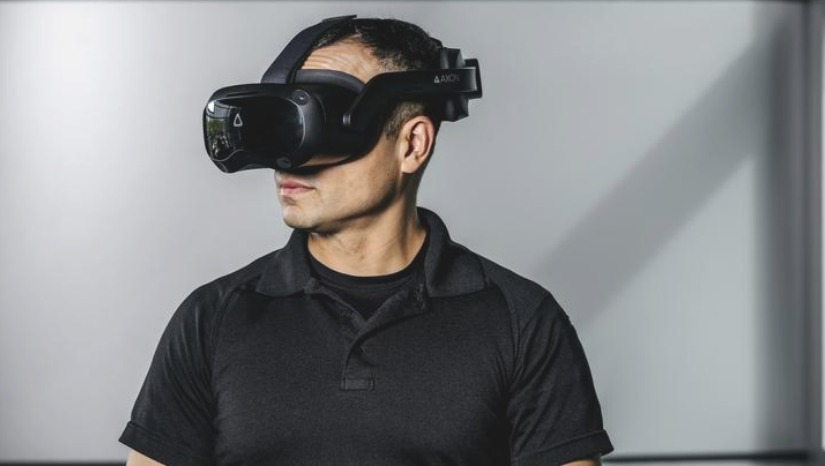 Scottsdale-based Axon Enterprise Inc. is now offering virtual reality simulator training to law enforcement agencies, with the Phoenix Police Department being one of the first to deploy the technology.
Axon (Nasdaq: AXON), the company that makes Tasers, said Tuesday that the new technology "provides immersive VR training that helps officers develop critical thinking and de-escalation skills" to prepare officers for real-life situations in the field.
"Axon's VR simulator training is truly a new era in law enforcement training," Chris Chin, Axon vice president of immersive technologies, said in a statement. "It directly supports Axon's mission to protect life by giving law enforcement officers the ability to work through situations they see in their communities daily via VR and help create better outcomes for everyone."
Axon in April announced that it has acquired Atlanta-based virtual reality studio Foundry 45, which specializes in immersive training modules for large organizations. In a previous statement, Chin said the VR training experts at Foundry 45 would "level-up our public safety training capabilities to make communities safer for all."
The company's team was integrated into Axon's existing VR team, but it is unclear how much, if any of Foundry 45's technology was used in this recently released VR simulator training platform. Axon didn't immediately respond to a request for comment.
Axon says VR is cost-effective training method
Axon said use of the VR simulator can be more cost-effective than traditional training and teaches de-escalation skills rather than being focused on use of force. The training can be deployed in departments of any size and doesn't require trainers and trainees to be in the same location, the company said.
According to Axon, a VR training session can be completed in 10 to 20 minutes before or after officers' shifts, and the platform can be used to analyze an officer's performance and determine what future training that person may need.
"With this new VR training, we've reduced the cost and time that it takes to get our officers the training they need to perform at their best," Phoenix Mayor Kate Gallego said in a statement. "I've experienced the VR training, and it was amazing to see the same incident from different perspectives. The training will help our officers gain confidence and insight as they respond to our diverse communities."
Axon said the VR training platform includes a library of supplemental e-learning content and training materials designed to strengthen the skills in the simulator training scenarios; a community engagement training component focusing on developing empathy and communication skills to engaging with individuals in scenarios involving mental health, trauma, peer intervention and more; and simulator training involving safe and effective deployment of weapons.
According to information provided by Axon, the National League of Cities did a three-month study involving over 85 officers at Phoenix Police Department's South Mountain Precinct who completed nine of Axon's community engagement modules in VR. 
The study found that 81.4% of participants said that at least one of the VR training modules was effective in preparing them to adapt their approach to a call. Additionally, 59% of participants found that at least one of the modules had encouraged them to see things from another perspective.
Since the start of the year, Axon's stock has trended downward, with a few jumps along the way. On Tuesday, shares closed down 2.3% to finish at $92.56. Track the stock here. A Morgan Stanley analyst downgraded the bank's rating on Axon this week to equal weight.
Axon has been in expansion mode this year, announcing in February its plans to add 1,200 employees to its workforce that already numbered 2,000, not counting 500 additional contractors. At the time, the company said it projected it would make $1 billion in revenue this year.
The company is also planning to build out its global campus in Scottsdale with an $85 million project — with a ground breaking expected this year — across the street from its existing headquarters at 17800 N. 85th St.
---
Register for the Council's upcoming Phoenix and Tucson tech events and Optics Valley optics + photonics events.
---