Axon files plans for huge corporate HQ site, and more, in north Scottsdale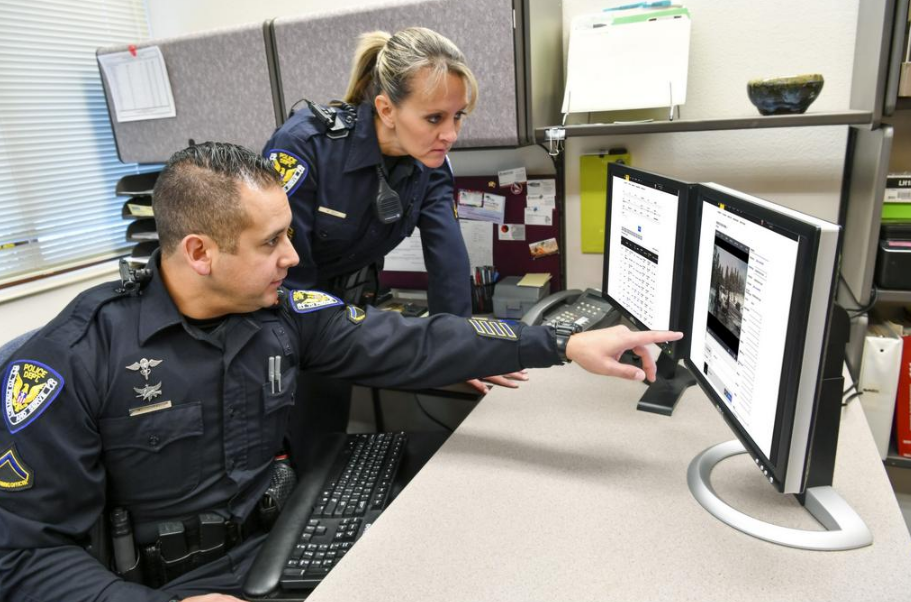 Nearly three years after a major purchase of north Scottsdale land, Axon Enterprise Inc. submitted a proposal that outlined its vision to turn that vacant land into its new corporate headquarters — and much more.
The Scottsdale-based law enforcement technology company filed a rezoning case with the city of Scottsdale on Tuesday that will eventually be heard by Scottsdale's planning commission and City Council. The 74 acres Axon owns at the southeast corner of Loop 101 and Hayden Road would essentially be split into three portions: Axon's headquarters on the east end and a residential, retail and hotel component on the west side. More than four acres of the parcel are earmarked for civic use.
In total, Axon (Nasdaq: AXON) is proposing a more than 400,000-square-foot office building that would house its corporate headquarters, with the first phase of the project on nearly 27 acres. Rezoning about 32 acres would make way for more than 2,000 multifamily residential units, a 100-key hotel and retail in six five-story buildings on the west end of the parcel for phase two.
Between the civic use portion and the land used for right-of-way improvements, about 15 acres total have been dedicated to the city of Scottsdale.
Axon told the Phoenix Business Journal in April that $85 million was "expected to be deployed" for the headquarters, which includes a next-generation manufacturing facility, will consolidate multiple facilities and bring increased automation to future generations of product hardware.
A date for Axon's rezoning case wasn't immediately known as of Thursday. Axon declined to comment to the Business Journal, saying it didn't have any new updates to share at this time.
Axon paid $49M for the land in 2020
Axon purchased the 74 acres of the north Scottsdale land in September 2020 at an Arizona State Land Department auction for $49.1 million, which was a month after Axon reached an agreement to keep its headquarters in Scottsdale. The agreement put Axon on the clock to develop 250,000 square feet of commercial space and reach a payroll of $130 million within five years after buying the land.
Axon's current headquarters is just to the southeast of the 74-acre site at 17800 N. 85th Street in Scottsdale. As of April, Axon said it has more than 2,900 employees, including more than 1,200 in Arizona.
The company brought in $375 million in revenue during the second quarter of 2023, which was a 31% year-over-year increase. Axon attributed the growth to strength in its Axon Cloud software, Axon Fleet and its "initial ramp" of the Taser 10 platform. The company's shares were up nearly 2% in trading on Thursday to $204.09. Track the stock here.
Axon's new headquarters would be in the heart of several multimillion and billion-dollar investments along Loop 101 in Scottsdale.
Axon's campus would be directly across from Nationwide Realty Investors' $1 billion Cavasson mixed-use development and to the east of Banner Health's future $400 million hospital campus. Over a mile down the street are the emerging Optima McDowell Mountain Village luxury community and the 120-acre One Scottsdale mixed-use development that will be located near Loop 101 and Scottsdale Road.
Scottsdale's economic development department told the Business Journal in May that there are more than 500 acres of developable land left north of Loop 101. Most of the acreage is only available for sale through state land auctions, the same means Axon used to claim the site of its new headquarters just three years ago.
Earlier this year, Billionaire George Kurtz and his development team filed a site plan to redevelop the former CrackerJax amusement park to the south of Axon's land into The Parque, which also would bring an estimated $1 billion of reinvestment into the site.
---
Register for the Council's upcoming Phoenix and Tucson tech events and Optics Valley optics + photonics events.
---