August 2022 TechCast | Building the Pipeline of STEM Talent for Tomorrow's Workforce Needs
Subscribe to AZTechCast today so you never miss an episode.
It's no secret that Arizona is an attractive place for technology companies to call home. But with more technology companies being founded locally and relocating to Arizona from out-of-state, how can we ensure we have enough qualified technology talent to fill highly technical positions?
The August 2022 episode of the Arizona Technology Council's AZTechCast podcast featured experts including Julie Bonner, director of communications at FreeFall Aerospace; Claire Conway, Arizona STEM ecosystem programs manager at SciTech Institute; and Betsy Hargrove, superintendent of the Avondale Elementary School District. These leaders joined Karen Nowicki, president and owner of Phoenix Business RadioX, and Steve Zylstra, president and CEO of the Arizona Technology Council and SciTech Institute, in discussing the importance of STEM education in building the pipeline of technology talent for today and tomorrow's workforce needs.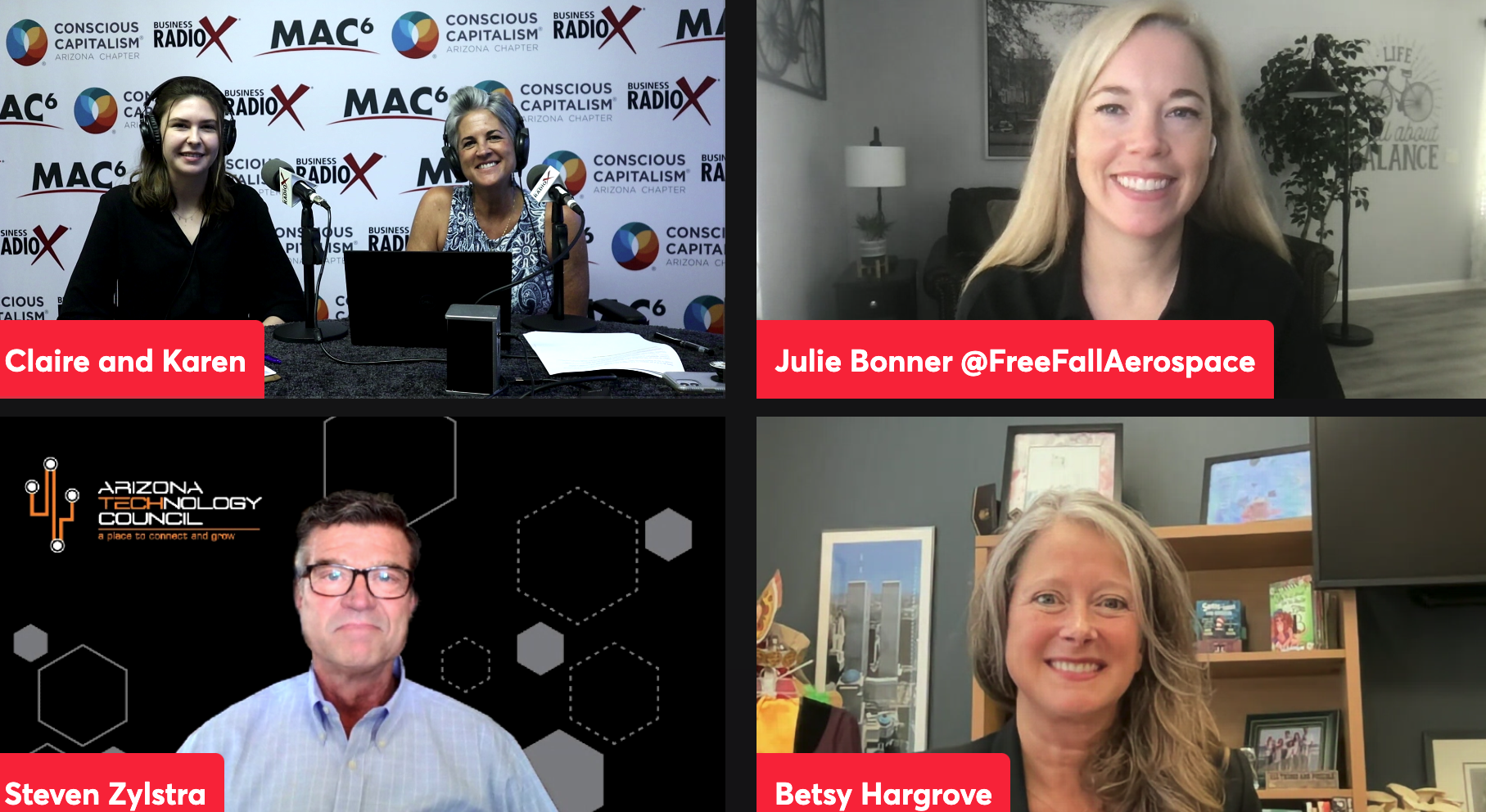 Throughout this hour-long episode, this panel of STEM experts spoke about how the growing number of technology companies calling Arizona home is creating an intensified demand for qualified talent to fill technical roles. But to hire talent effectively, our panel of experts recommended shifting the conversation away from "developing the pipeline of STEM talent" and towards focusing on students and their career pathways.

In her role at SciTech Institute, Claire motivates individuals of all ages to pursue STEM-related educational and career paths. She collaborates with STEM partners in industry, education and community organizations across Arizona to develop regional STEM hubs that connect and align efforts in our local communities. She also coordinates statewide working groups on the future STEM workforce and STEM programming in Arizona libraries and serves as the connection point between students, educators, industry experts and others who are working to equip students for the workforce of tomorrow.
As a biomedical engineer by education, Claire emphasized that work opportunities are evolving so quickly that students do not have the opportunity to become aware of them and learn more about them. In fact, many of these opportunities may not have been available when their parents or teachers were in school. Claire feels passionately not only about educating students on the opportunities that exist and how to prepare for them, but by being intentional about representation in STEM. When discussing science and technology, it is critical for us to select diverse speakers for panel presentations, use examples of diverse innovators throughout history and provide an opportunity for students to really see themselves reflected in the work being done.
As the superintendent of the Avondale Elementary School District, Betsy is used to serving a highly diverse community. To give K-8 students a head start on their technology skills, the district requires all students to participate in coding and computer science classes during the school day. Offering these classes during the school day has turned out to be a "great equalizer" in Betsy's eyes as not all students can access after-school or weekend programming. In this environment, students have the ability to self pace, grow and develop while becoming problem solvers and critical thinkers. Time after time, Betsy is impressed by how students react to being presented with a real problem and having the time to free-flow ideate and iterate without limitations. But to encourage this across Arizona, Betsy says the key is to marry K-12 education and the private sector.
That's where FreeFall Aerospace comes in. Recently recognized by the Arizona Technology Council and Arizona Commerce Authority as the Startup Innovator of the Year, FreeFall Aerospace is developing innovative antenna solutions for space and ground systems. While that may sound highly technical, Julie's background as director of communications is actually in art and graphic design. She feels strongly that students do not have to study engineering to take on a role in the technology industry. In fact, she believes that encouraging students from diverse backgrounds to pursue STEM will enable more creative problem solving and critical thinking that can address some of the industry's most pressing problems. Julie loves to spend her time volunteering with a wide range of community organizations like SheTech and SARSEF to get involved in Tucson's local STEM community and learn what local bright students are working on.
Regardless of their varying perspectives, all three speakers unanimously agreed that Arizonans can very easily invest in their local STEM communities by sponsoring a STEM club, providing them with transportation to an event, being a mentor or coach or even being a guest speaker and talking about your career. To learn more about all the ways you can support your local STEM community, register for SciTech Institute and the Council's upcoming virtual event on August 31 called "How to Get Involved in the STEM Community (Without Writing a Check). Watch the replay below for more insight on this engaging conversation!
JULIE BONNER
Director of Communications, FreeFall Aerospace

CLAIRE CONWAY
Arizona STEM Ecosystem Programs Manager, SciTech Institute

DR. BETSY HARGROVE
Superintendent, Avondale Elementary School District

About AZTechCast
The official podcast of the Arizona Technology Council, AZTechCast is dedicated to covering innovation and technology in Arizona and beyond. Through the art of the connected conversation, AZ TechCast's hosts and guests share success stories, tech news and analysis about the region's leading startups, companies and emerging technologies, as well as the latest industry trends and critical issues propelling Arizona's growing technology ecosystem. Visit www.aztechcouncil.org/techcast to learn more or to listen to recent episodes.
About Phoenix Business RadioX
Karen Nowicki is the owner and president of Phoenix Business RadioX. Amplifying the voice of business, Phoenix Business RadioX helps local businesses and professional associations get the word out about the important work they're doing to serve their market, profession and community. A successful author, speaker and the creator of Deep Impact Leadership™ and SoulMarks Coaching™, Nowicki is a two-time recipient of the prestigious national Choice Award® for her book and personal development retreat. In addition, Nowicki has been an expert guest on regional TV and radio shows, including Fox Phoenix Morning Show, Sonoran Living, Good Morning Arizona, The Chat Room and Mid-Day Arizona. Recognized for her leadership and business acumen, she has been a regular contributor to many print and online magazines – publishing articles and blogs for business and education.
---
Register for the Council's upcoming Phoenix and Tucson tech events and Optics Valley optics + photonics events.
---