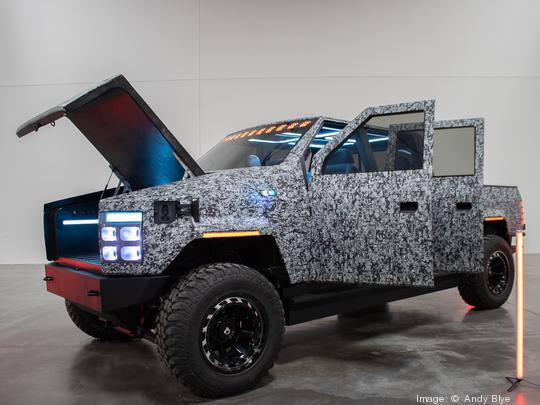 Atlis Motor Vehicles, an electric vehicle and mobility startup based in Mesa, kicked off a new round of fundraising this week, again turning to the public to crowd fund the new venture.
Atlis specifically launched a Regulation A+ offering on Wednesday with the goal of raising $10 million. The offering is open to the public and investors must purchase at least 16 shares at $15.88 for a minimum investment of $254.08.
"2021 was an incredible year for us and I truly believe we've just embarked on an even more exciting one," Atlis Motors CEO Mark Hantchett wrote in a letter to shareholders. "We have made leaps and bounds in the energy technology space with so little compared to larger companies around us. We have secured $300+ million in future revenue from battery technology alone and over 24,000 contractual orders for trucks around the world. Now, 2022 is all about growth. This year we become a revenue-generating company — an unheard of scenario for a startup in our position."
This is not the first time Atlis has used crowdfunding to seed its efforts; Atlis previously ran three Regulation Crowdfunding offerings (smaller raises under Securities and Exchange Commission rules) as well as one previous Regulation A offering.
All told, the company has previously raised about $22 million from these campaigns and, as of early Thursday afternoon, the company said it has already raised $491,000 from 279 investors in the latest effort.
Targeting commercial customers
Atlis plans to make a truck called the XT, targeting commercial customers in agriculture, construction and utilities industries. The company will build this truck on its XP platform, a "skateboard" base with battery and wheels upon which Atlis can build different vehicle configurations.
Atlis produced its first battery pack last year and plans to start producing the XP platform and XT truck by the end of this year. The company now employs more than 60 people.
Atlis plans to use money raised during this offering to hire more engineers, buy more battery testing equipment, expand sales programs and finalize production-level design for the XT pickup and XP platform.
The company has already secured an order for 19,000 XT pickups to be delivered to Australian Manufactured Vehicles Pty Ltd through 2025 as well as a partnership with Li-Cycle to recycle depleted lithium-ion batteries.
The Atlis investor's website says the company is now valued at $950 million, a 146% gain from valuation the company disclosed during its previous fundraising campaign last year. The valuation is a high mark for a pre-revenue manufacturing company, but not out of sync with other EV-making startups. 
Phoenix-based Nikola Corp., which is making hybrid semitrucks, has a market cap of $2.9 billion and Irvine, California-based Rivian, another EV startup, is valued at an eye-watering $50.9 billion, despite both companies only producing a handful of vehicles to date.
Both Nikola and Rivian went public before establishing significant manufacturing outputs and Atlis too says it is planning to go public at some point, but does not have a firm timeline in mind.
---
Register for the Council's upcoming Phoenix and Tucson tech events and Optics Valley optics + photonics events.
---