As Intel's Chandler expansion progresses, Sen. Kelly says company should have 'competitive application' for CHIPS Act incentives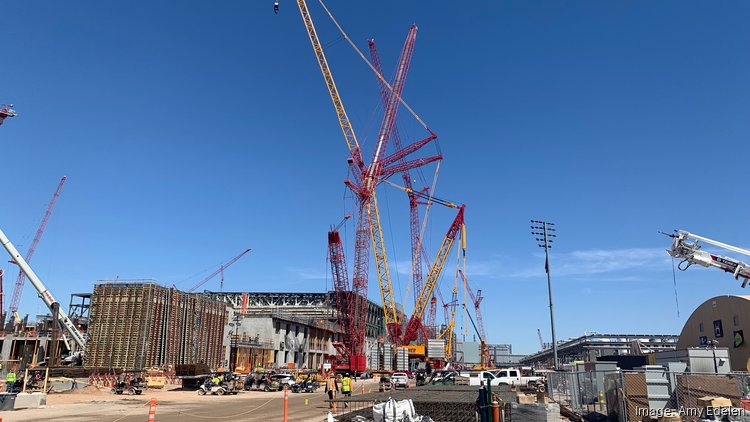 Intel Corp.'s Ocotillo campus in Chandler was buzzing with activity Wednesday as construction workers transported materials and cranes hoisted steel trusses onto buildings that will soon become the company's newest semiconductor factories.
U.S. Sen. Mark Kelly was onsite to view construction progress of the two factories — Fab 52 and Fab 62 — a $20 billion project that broke ground in 2021 and is expected to spur creation of more than 3,000 high-paying tech jobs.
"This is going to be one of the premier facilities in the world, certainly here in the state of Arizona, bringing thousands of good paying jobs that you can actually raise a family on and that do not require a four-year degree," Kelly said at a media event held at Intel's Ocotillo campus on Wednesday. 
Intel spokeswoman Linda Qian declined to disclose whether the company is on track for meeting its previously announced timeline for opening the fabs in 2024.
She said Intel is making a "tremendous amount of progress" on the fabs, which will be complete within three to five years from the initial groundbreaking date.
The fabs will have more than 250,000 square feet of clean room space and will produce wafers, which are thin slices of semiconductor material used for fabrication of integrated circuits. Each wafer can hold hundreds or thousands of chips, depending on size.
Intel will send the wafers to an assembly testing center where they'll be cut via lasers into individual chips, packaged and shipped to customers, said Jason Bagley, government affairs director for Intel Corp.'s U.S. Southwest region.
The fabs will support growing demand for Intel's products and be a provider for Intel Foundry Services. The two fabs, when complete, will bring the total to six fabs on Intel's existing Ocotillo campus.
"I almost can't stress enough how important these wafers are to our economy," Kelly said. "Semiconductor chips go in everything from cellphones, vacuum cleaners and cars to the most sophisticated fighter jets in the world."
The pandemic exacerbated a global shortage of semiconductor chips, most of which are produced in Asia.
"We're at a point now where we need to change the balance of the semiconductor industry supply," Bagley said. "We are actively working on these two new factories here as part of that strategy to shift some of that production capacity back to the U.S. and back to Europe, so we have more of a fifty-fifty division between Asia, the U.S. and E.U. These efforts are critical to the ability of this country to continue to innovate and continue being a global leader in the semiconductor space."
Intel's Ocotillo campus is the company's largest manufacturing site in the country and employs more than 12,000 people.
Semiconductor companies applying for CHIPS Act funding
Kelly's visit to Intel comes about a month after the U.S. Department of Commerce opened applications under the CHIPS and Science Act for semiconductor companies to access more than $39 billion in incentives to build new factories and expand production nationwide.
Kelly was a key negotiator for the CHIPS and Science Act, which will provide more than $52 billion toward revitalizing the nation's semiconductor industry.
"Intel is going through that (application) process, along with other companies like TSMC," Kelly said, adding he expects funding recipients to be announced in the fall. "I'm confident that Intel is going to put together a very competitive application."
Arizona is poised to become a semiconductor hub with Intel and Taiwan Semiconductor Manufacturing Inc. (NYSE: TSM) building projects that call for either expanding or building new fabrication facilities in the Valley.
TSMC is building two fabs in north Phoenix, increasing its investment from $12 billion to $40 billion and marking one of the largest foreign direct investments in the state and U.S. history. It plans to employ more than 4,500 workers at its Arizona campus where it will produce 4- and 3-nanometer chips, the Phoenix Business Journal previously reported.
Intel is already making investments in workforce development to fill the thousands of jobs at its two fabs under construction. One of the company's workforce development initiatives includes a semiconductor manufacturing Quick Start program in partnership with Maricopa Community Colleges, Qian said.
"We think we're going to be able to step up fully and the appetite to work in Intel will be there," she said.
---
Register for the Council's upcoming Phoenix and Tucson tech events and Optics Valley optics + photonics events.
---