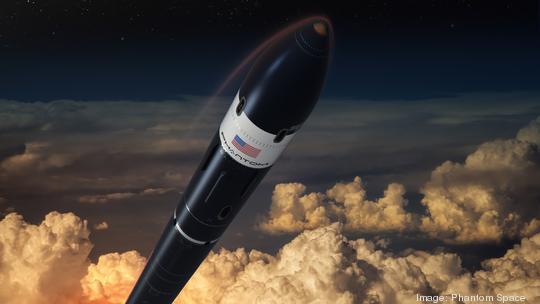 As it prepares to launch its orbital rocket starting in 2023, Tucson-based Phantom Space has entered a deal to buy more than 200 rocket engines from a Colorado company.
The deal calls for the purchase of hundreds of Ursa Major Technologies' 5,000-pound thrust Hadley engines in different configurations for test launches of Phantom Space's Daytona rocket. Phantom Space will also buy "numerous" 50,000-pound thrust Ripley engines from Ursa Major for planned upgrades to the Daytona.
Phantom Space says it is planning to begin hot-fire testing of the Daytona rocket in June and intends to launch for orbital flight in 2023, three years after the Tucson company was founded. The first batch of Hadley engines have already been delivered, Phantom Space said.
The Hadley rockets will be optimized for cost, performance, time-to-market and reliability, the company said, and the Daytona will start off with nine of them for its first stage of launch and one more for its upper stage. In 2024, the company plans to upgrade the Daytona to use one Ripley engine for the first stage and one Hadley engine for the upper stage. In 2025, Phantom Space plans to debut its larger Laguna rocket, which also will use a combination of Ripley and Hadley engines.
Finding domestic-made engines a priority
Selecting an American engine supplier is a key component of his company's plans, Phantom Space CEO Jim Cantrell said. Alternatives such as buying Russian or Ukrainian engines are no longer available, and building engines in-house is expensive and comes with risks, the company said.
Ursa Major handles all stages of design, testing and production of its engines in Berthoud, Colorado, north of Denver.
"Phantom's strategy leverages a mature U.S.-only supply chain to deliver the lowest cost US built small launch vehicle on the market," Cantrell said in a statement. "Ursa Major is a core component of this strategy with flight-ready, reliable, high-performance engines that are configurable for not only our workhorse Daytona and Laguna launch vehicles but also a family of enhanced future launch configurations. Ursa Major's combination of affordability and a 'get it done' attitude has made them a complete pleasure to work with."
Phantom Space is developing its rocket to take satellites into orbit at lower cost than what larger providers offer. The charge for a dedicated launch is expected to be $4 million. The company also builds satellites.
Cantrell — who was previously the first vice president of business development at SpaceX and who also worked at the French Space Agency and at NASA's Jet Propulsion Laboratory — previously told the Business Journal that he hopes to change the way businesses get into space by providing reliable transportation.
Ursa Major's founder Joe Laurienti said the partnership demonstrates the future of the U.S. space industry.
"Together, Ursa Major and Phantom Space are proving to satellite operators, government partners, and the rest of the industry that they're no longer stymied by outdated, and now unavailable, rocket engines," Laurienti, who is also Ursa Major's CEO, said in a statement. "We invite the U.S. space industry to reimagine their programs with the revolutionary assumption that they have virtually on-demand access to domestically made, high-performing, affordable, and reliable propulsion."
---
Register for the Council's upcoming Phoenix and Tucson tech events and Optics Valley optics + photonics events.
---