Arizona Technology Council launches new tech-focused podcast: AZ TechCast
AZ TechCast, the podcast of the Arizona Technology Council, is dedicated to covering innovation and technology in Arizona and beyond
In the April 2020 episode of AZ TechCast, an innovative group of experts shared their expertise and insight into what Arizona's science and technology industry is doing to support the community in addressing the pandemic. These are just a few of the many Arizona institutions and companies that have stepped up and are making a difference in the fight against COVID-19.
SAIRAM PARTHASARATHY
UArizona College of Medicine

ERIC MILLER
PADT, Inc.
BORIS REISS
UArizona College of Public Health
STEVE ZYLSTRA
Arizona Technology Council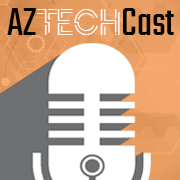 About AZ TechCast, the new podcast of the Arizona Technology Council
AZ TechCast is dedicated to covering innovation and technology in Arizona and beyond. Through the art of the connected conversation, AZ TechCast's hosts and guests share success stories, news and analysis about the region's leading startups, companies and emerging technologies, as well as the latest industry trends and critical issues propelling Arizona's growing technology ecosystem.
Broadcasted monthly, AZ TechCast features real leaders having real conversations about what's happening in the technology sector across the state of Arizona. Broadcasting live from within the Phoenix Business RadioX Studio in Tempe, Ariz., each episode is recorded, professionally mastered and then released as a podcast publication, accessible by streaming or download and shared on social media. Podcast participants do not have to be members of the Arizona Technology Council.
Sponsorship Opportunities
Interested in being a podcast participant or sponsor for the Council's AZ TechCast? Contact [email protected] to lock in your opportunity to further position you as a tech expert and your company as an Arizona innovator.