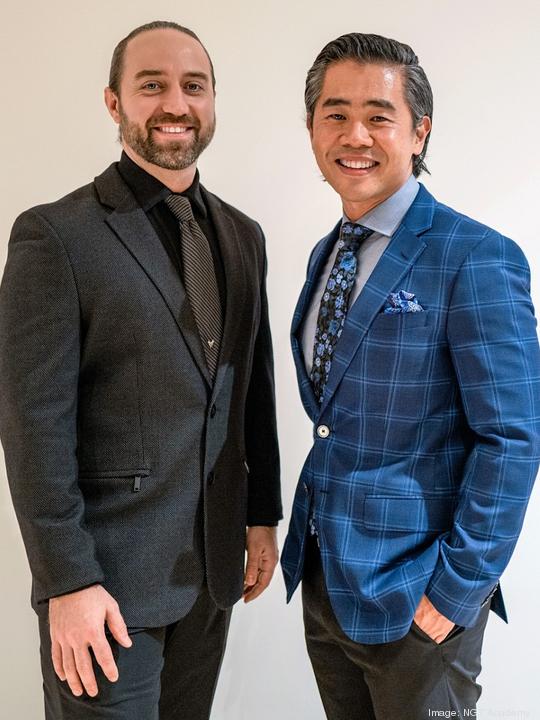 AZ Inno
NGT Academy, a startup that trains people to become IT professionals in a matter of months, recently shifted its operations to Arizona and the company plans to build its first brick-and-mortar training academy in downtown Phoenix.
NGT Academy, also known as NexGenT Inc., was founded by Terry Kim and Jacob Hess, who both served in the United States Air Force where they helped train other airmen in information technology and cybersecurity. Hess and Kim have taken the principles they learned in the military and developed a curriculum to help turn anyone into an IT pro in their 16-week programs.
These two have been working on NGT Academy since 2016 and they have previously participated in AngelPad and Y Combinator, two well-known startup incubators. The company previously raised $15 million from venture capitalists, but recently they've decided to take a different approach to fundraising.
NGT Academy is one of four companies featured on a new web series by Entrepreneur called "Going Public," which profiles early stage companies as they build. The twist is that each of these four companies are currently conducting a Regulation A crowdfunding campaign and viewers of the web series can click to invest at any time as they stream the show.
Influx of cash
Kim said they initially turned down the offer to participate in the series, until he spoke with Ming Zhao, CEO of Proven Skincare. Kim and Zhao were in the same cohort at Y Combinator in 2018 and she told Kim that building brand awareness is a huge part of why they want to participate in the series.
"We could try to go raise our next round in series B and add one more board member to our board and get this influx of cash. But what's the other alternative?" Kim said. "What if we go on this show and it has millions of viewers per episode? And we get to crowdfund literally an army of ambassadors that believe in our mission."
The Going Public series launched on Jan. 18 and the show is still in production with new episodes coming out each week. Kim said it's still early in the fundraising process, but they expect to see investment grow in the coming weeks.
NGT is looking to raise a maximum of $72 million in this fundraising drive, according to the company's offering circular. Investing in early stage companies is a risk (NGT's financials were prepared on a "going concern" basis) but Kim and Hess think the company has a chance to expand nationally in the years to come.
Rethinking basic training
Hess and Kim met in Biloxi, Mississippi, near Keesler Air Force Base, after Kim had gotten out of the military and Hess was wrapping up his service. Kim went on to hire Hess for his team at Keesler Federal Credit Union before they founded NGT Academy in 2016. They moved to Phoenix last year.
The ultimate vision for NGT has always been to build a physical campus for students to visit during their coursework. They've had to defer that dream and instead start their training platform online, but NGT is now taking steps to open its first campus in downtown Phoenix later this year.
NGT is currently a tenant at 135 N 2nd Ave. in Phoenix. The six-story building was appealing because it is in an Opportunity Zone (as is much of downtown) and NGT is now working with an Opportunity Zone-focused fund in hopes of purchasing the building.
The goal is to establish a food court and day care center on the first floor, which would be open to the public. The basement would be home to a data center and training area, there would be three floors dedicated to student housing and a floor for NGT offices. 
"The whole vision was like, could we build a campus in a metro area where students can live, play and learn, all in one experience? Kind of like in the military days," Kim said. 
"After basic training, you would be sent to your tech school, wherever you're going to get trained, we went to Keesler Air Force Base, trained for four months. And that's where we kind of knew, hey, you could train people in pretty much any technical career field, at least to an associate level, in compressed time."
This Phoenix campus will be NGT's first and they expect to train around 1,000 students a year to become cybersecurity analysts, network engineers and more.
Kim referred to the 60,000 square foot Phoenix location as a mini-campus because, in time, the hope is to replicate this system by establishing eight more campuses in largest spaces across the country.
---
Register for the Council's upcoming Phoenix and Tucson tech events and Optics Valley optics + photonics events.
---