Amazon signs another lease at Tempe office tower, plans to hire hundreds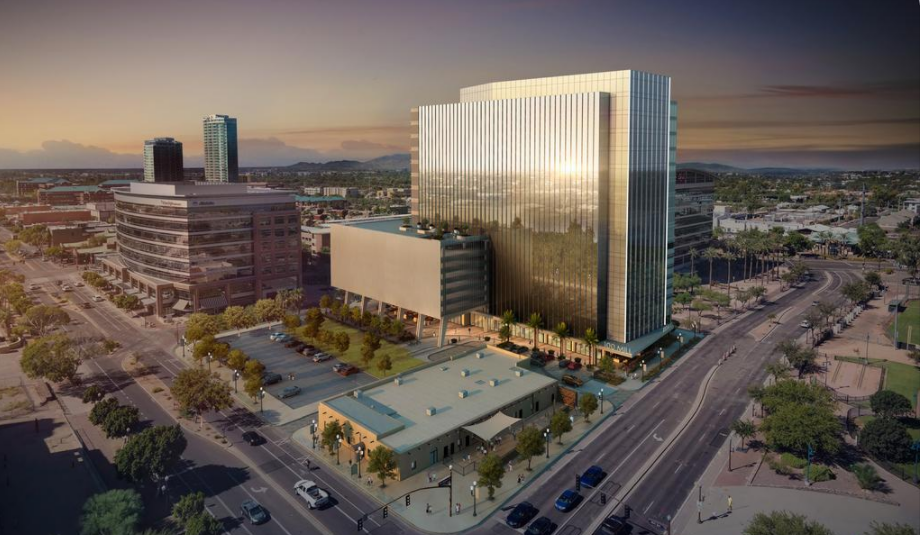 Amazon.com Inc. is planning to hire an additional 550 people in Tempe and has already expanded its office footprint in a brand-new office tower there.
The e-commerce giant expanded its lease in 100 Mill, the office tower in Tempe being developed by Cousins Properties and Hines and is set to complete construction in the first quarter of 2022.
Amazon had previously pre-leased 95,000 square feet in the building, and announced Tuesday it had expanded by 63,000. The company plans to occupy the initial 95,000 square feet in the first half of 2022 and the expanded space in the second half of the year.
"Not only do Phoenix and Tempe have an incredible existing talent pipeline, but this is a place where people want to move to as well," Doug Welzel, site lead for Amazon's Phoenix Tech Hub, said in a statement. "We've experienced amazing growth over the last few years, creating jobs and economic opportunity for the wider community. We've already created more than 5,000 corporate and tech jobs in the Phoenix area, and we are excited to continue investing here."
The roles the company is hiring for include software development engineers, senior solution architects, project managers and business analysts across various teams in the company, including Amazon Web Services, consumer retail and operations.
"It's investments from companies like Amazon that will continue to help Tempe attract more businesses and tech talent to our city," Tempe Mayor Corey Woods said in a statement. "These types of investments not only create good jobs, but they help to power the economic engine of our community and provide more opportunities for our residents and citizens."  
Cousins Properties also announced Tuesday that San Francisco-based LiveRamp, a technology firm, leased 32,000 square feet at 100 Mill and plans to hire for 100 positions and have several executive leaders in the Phoenix market.
The two leases bring 100 Mill to 80% pre-leased ahead of delivery.
"We continue to see rapidly growing technology companies from the West Coast select Phoenix as a market for expansion based on its abundance of talent, attractive environment and easy accessibility," Colin Connolly, president and CEO of Cousins Properties, said in a statement. "Our leasing pipeline for the remaining space at 100 Mill is very strong as companies continue to focus on building their culture in high-quality office space that inspires employees and encourages collaboration."
Deloitte has also pre-leased the top floor of the office tower. The joint venture developing the project is 90% owned by Cousins Properties and 10% by Hines.
---
Visit www.aztechcouncil.org/tech-events to view all of the Council's upcoming virtual tech networking opportunities, engaging virtual tech events and in-person tech events.
---