University of Advancing Technology Blog
Twas the night after Christmas, and all through the house, every creature was stirring…
BECAUSE THEY ALL RECEIVED THE COOLEST GIFTS EVER!
Well done, Santa.
If you want to be the super St. Nick of your family this year, University of Advancing Technology (UAT) President Jason Pistillo has 12 recommendations that will make the elves jealous. From the best new cameras to personal robots, this list of items has something sure to please the techie in your life.
Check out the 12 Days of Techmas, 2021 edition.
#12 – Aerogarden
From a small model small enough to sit on a counter, to what's practically your own farm, you can have an indoor garden in only three steps. Once you choose to grow your own veggies year-round, it may be easy to resolve to have a healthier new year!
#11 – DLI Atomic Pi – High Speed SBC with Peripheral ICS and Camera
According to New Egg, this motherboard beats some desktops. It's loaded with memory, with a fast dual band WiFi connection and webcam and small breakout board included. Happy building!
#10 – Ray-Ban Smart Glasses
What if you could wear classic frames, but see the future? Kind of like Clark Kent combined with Yoda? Well, these sunglasses won't exactly make you SuperYoda, but they're still pretty cool. The Ray-Ban Stories Smart Glasses allow you to take photos and videos, listen to calls, and share to your social media… and you can even get them with prescription lens.
#9 – SRS-RA5000 – Sony 360 Reality Audio Wireless Speaker
Music in 3D? Yeah, that's s thing now! This speaker isn't just a speaker, it features 360 Reality Audio that makes whatever you're listening to immersive throughout your home, with seven speakers and a bunch of other cool features. Turn it on, turn it up, and chill.
#8 – Beast Blender
The new Beast Blender boasts less noise and more power, but honestly, I just want to see what all you can obliterate in this thing. It looks pretty cool, like a sci fi blender where you hide an infinity stone, and I bet it makes a pretty good smoothie, too.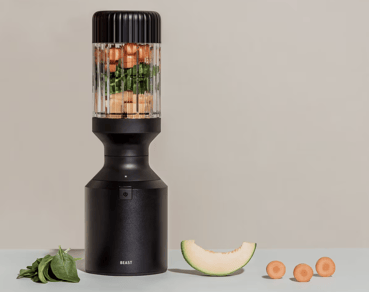 #7 – Polaroid Now+ i‑Type Instant Camera
Polaroids are classic and fun… but this new one is also connected. Using the Polaroid mobile app, you get access to a variety of tools like light painting and double exposure. It mounts to a tripod and comes with a very artistic set of physical lens filters so you can get creative, and then get your photos instantly.
#6 – Cam Link 4k
Watch out, YouTube, content creators are about to level up. With the Cam Link 4K, you can turn any DSLR or camcorder into the something that looks like one of the best zoom webcams on the market. Simply plug it in and start producing, and your stream will be top-notch quality. Christmas unboxing video, anyone?
#5 – an NFT Comic Book
https://www.ebay.com/b/Emerging-NFTs/262050/bn_7117733224
First of all, if you're not familiar, NFTs are Non-Fungible Tokens (NFTs), which can be artwork, collectibles, memorabilia, or personal data. So basically, you can now get your hands on digital copies of comic books, opening up a world of art and comics that you can't find in stores. That's something to Marvel at.
#4 – ClicBot
Allergic to dogs? Get a ClicBot! He can be a little needy—he looks for you when you're not around—but he can also teach you how to code and build out your perfect little buddy. If you're not sure where to start, there's plenty of preprogrammed fun, but ClicBot includes free video courses to teach you the basics through advanced coding. And let's be real, this thing is just too cute. Fido who? Watch a video here.
#3 – Ridge Wallet
As President Pistillo puts it, this gift is "for security-concerned gentlemen that want a sleek wallet." He's probably just trying to block us from using the American Express… Featuring RFID blocking, there are a variety of designs that will keep your cards safe and you looking cool.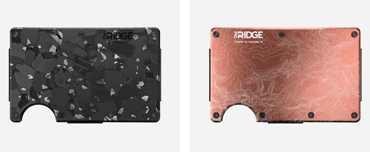 #2 – SwellPro Fisherman
You've probably heard of fly fishing, but this takes casting to a whole new level with a drone for fishing! It's definitely more expensive than a fishing pole, but a lot cheaper than a boat. Drop your drone in and troll along, and don't worry if you lose control of your line—it's waterproof! Watch a video here.
#1 – Amazon Astro
Amazon's new household robot for home monitoring comes with Alexa and includes a 6-month free trial of Ring Protect Pro. Astro will follow you around, providing much more than security—it even has a cup holder. According to Amazon, it can provide entertainment or find you to deliver calls, messages, timers, alarms, or reminders. And it wouldn't be Amazon if more options weren't available. Astro can carry other items, such as a Ziploc container, the OMRON blood pressure monitor, and even a Furbo Dog Camera that can toss treats to your pet (sold separately; adapter required).
But there's something you may consider that's not under the tree… furthering your education. Treat yo'self to a top-tier tech degree from UAT, because an education is the gift that keeps on giving. Learn more at www.uat.edu, and Merry Christmas from all of us at UAT!
---
Visit www.aztechcouncil.org/tech-events to view all of the Council's upcoming virtual tech networking opportunities, engaging virtual tech events and in-person tech events.
---