Banner|Aetna: August 2019 Preferred Business Partner
August's Preferred Business Partner, Banner|Aetna, offers offer more efficient and effective patient care at a more affordable cost.
Banner|Aetna's vision is to provide sustainable solutions to help resolve some of the critical issues in the current health care system by delivering patient-centered experiences designed to support member's health goals; personalization through analytics and digital tools; connected care through local hospitals, local physicians, and our local non-clinical care network; and efficient processes +transparent and predictable costs.
Get the health care you deserve
Health plans can be confusing. We're here to help. As a Banner|Aetna member, you'll get all the information and support you need to make your best health care decisions. Whether you have a billing issue, a question about a claim or need help finding a doctor, just call the number on the back of your ID card. We know your time is valuable, so we'll do everything we can to solve your problem on that same phone call.
An affordable family-health plan
We want to change the way you and your family experience health care. Our plans are designed to save you money and give you easy access to quality care in your community. We also strive to make things simpler and easier to understand. So you can easily choose the best health plan for you. Watch this video to see how easy it is to get neighborhood health care. (Savings are based on Aetna plans with broad network. Actual savings may vary.)
Easily understand your network health plan options
You can experience the most coordinated care plan option in Maricopa and Pinal counties through the Banner Health Network* which now includes HonorHealth's extensive network that consists of 1,650+ primary care doctors, 9,000+ specialists, 23 hospitals, 120+ urgent care centers, 12 BannerHealth centers and more than 45 walk-in clinics.
And in the greater Tucson area you'll experience coordinated care plan options through the Banner Network that also includes Banner University Medical Center & Medical Group, Tucson Medical Center, TMCOne, Arizona Community Partners and El Rio Health offering more than 490 primary-care doctors*,  2,600 specialists*, three hospitals, 20+ urgent-care centers and 12+ walk-in clinics. All Banner|Aetna health care professionals** work together to make your care better and more affordable.
Your doctors and specialists talk to each other often. This makes your care more coordinated and personal. So you can think of this type of network as a neighborhood. Your primary care doctor gets to know you and calls on his or her team of specialists and facilities to coordinate any additional care you may need.
Transforming health care, together
Together, Banner Health and Aetna aim to offer more efficient and effective patient care at a more affordable cost through their joint venture, Banner|Aetna. We join the right medical professionals with the right technology, so patients benefit from quality, personalized health care designed to help them reach their health ambitions. To learn more, visit www.banneraetna.com.
*Some providers practice solely within a facility setting and are not available to members for appointment.
**BannerlAetna plans are available statewide.
---
For more information, or to obtain a quote, contact:
Rhian Madrid, Manager Small Group Sales: [email protected] or 602-659-9062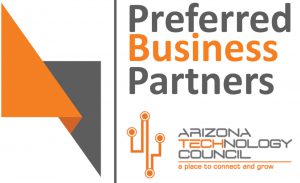 The Council's Preferred Business Partners program provides significant discounts on the products and services technology businesses need most. Don't waste valuable time collecting quotes around town—we've done that for you. Visit August's Preferred Business Partner, Banner|Aetna at www.banneraetna.com to learn how patients benefit from quality, personalized health care designed to help them reach their health ambitions. Learn more about the Arizona Tech Council's Preferred Business Partner program and to see the distinguished  partner companies that provide high-quality products and services with highly reduced prices solely for AZTC members.