UAT guest post: Lend a helping hand with Professor Brendly Singleton
Meet Professor Brendly Singleton
It is known that University of Advancing Technology (UAT) is great at, well, advancing technology . What's really cool about UAT are the people who make it such an amazing community. Our professors are so much more than their industry expertise. They go above and beyond inside and outside of the classroom, not only for our students, but for the community. Along with teaching industry-ready topics and highly sought-after curriculum, they are also doing so much good for the world. It is a pleasure to introduce and recognize Professor Brendly Singleton.
Professor Singleton, an Arizona native, joined UAT earlier this year as a full-time professor. Brendly comes from a family of six, where she is the eldest. "As a product of a single-parent household, we were very poor and did not have much," she shares. The holidays were a little different than in the movies. Her mother was a housekeeper, and Brendly recalls Christmas clothing came from the family her mother worked for. Everything her family received was used or donated. Although Brendly was extremely grateful for these items, she wasn't necessarily a fan of wearing her mother's employer's clothing. Because of this, she learned to sew so she could make the clothes into something new and more her style. "That at least made it easier for me to wear the clothes."
Turning Challenges into Goals
Although her childhood was difficult, Brendly turned her challenges into goals for her future and family. "Because I always had used items growing up, I never wanted my children to feel what I felt." It started with her own family, promising they would have new clothes to wear and new toys to play with, but it eventually evolved into Brendly helping other families in need. To this day, Brendly is committed to serving the less fortunate and volunteering in every way she can.
"I have always given back to my community of children and seniors. Growing up, I would tutor students who needed support and help seniors with housekeeping and little tasks around their house. My community giving grew as a result of my time with my late husband, who was a senior and a veteran. He and I supported at-risk children, seniors, veterans and homeless families with children. Through our friends and colleagues, we partnered to develop and open a charter school in Little Rock, Arkansas in 2007 [Dreamland Academy of Performing Arts]."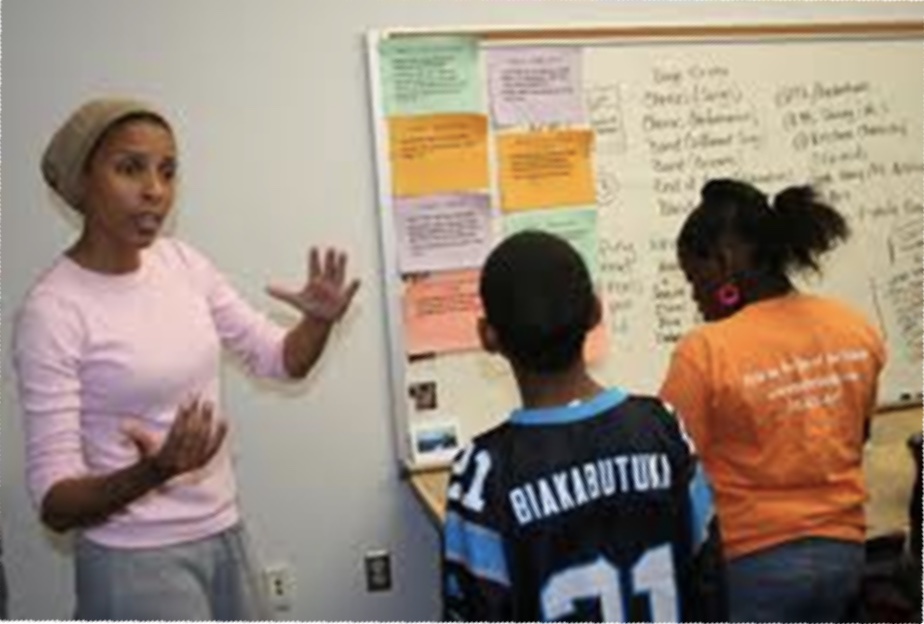 "We served 300+ at-risk children and their families in an area known as the "Iron Triangle" because of the regular devastation to the traditional family unit in that area. There was a documentary on HBO some years back entitled "Gang War: Bangin' in Little Rock"  that led us to that community. It was the best experience of my life to give back in another community and make a difference."
"We served this community [Little Rock, AR] for five years. The first year my professional partner, Dr. Carolyn Carter, and I took no salary, as we wanted to ensure the school's [Dreamland Academy of Performing Arts] survival. As you may know, startups are difficult and money to build one can be limited. Dr. Carter developed the concept, and my role was to implement and ensure the program supported all students and their families within this community. We lived and worked in that community until 2012. Our students experienced major success prior to being denied a renewal to our campus contract by the local department of education. It was a major loss for our students, families, the community and the staff we employed. I still have contact with a few families from our campus even today. I miss them. I still worry and wonder if they are being treated fairly and given the opportunity to succeed academically."
Continuing the Spark
Brendly and her late husband, James E. Singleton, who lost his battle to cancer in 2017, shared their passion to help those in need. After his passing, she continued following her spark to serve seniors. "This was a real passion of his," she remembers. "Seniors should not have to experience loneliness. They have so much knowledge and information about their lives that you can learn from." Simply listening to them can turn their entire day around, and as a bonus, you could learn something really cool. Continuing her late husband's legacy wasn't her only goal. Her three sons were involved in role modeling for younger males on their charter school's campus. "It was important to me for them to see and take part in giving back to a community, no matter where they lived."
In a heartbreaking turn of events, Brendly's youngest son was murdered on Mother's Day in 2020 to gun violence. As so many other African American males are, he was killed by gunshot and the shooter is still unidentified. It's been frustrating and hard for Brendly to even visit the location where he was found. Even during the unthinkable, Brendly has found the strength to use her own tragedy to help her continue serving at-risk children and families. Her strength and dedication to helping others is truly an inspiration and a gift to us.
Since her son's death, she continues to provide backpacks filled with personal care items twice a year to homeless families. "My grandchildren help me pack the items as well as deliver the items. It is a great opportunity for them to understand how important it is to help others. They go through their gently used toys to share with the children as well."
The Reason Behind the Passion
When asked why she continues, Brendly put it simply, "I continue because there continues to be that need." She added that it makes her feel good, too. "I wish there had been someone during my childhood who did that for us." She explains how she knows what it feels like to have used items and did not want her children or grandchildren experience those feelings. This grew into her not wanting any children to experience it, knowing what a sad and lonely feeling it can be. Brendly is an amazing example of what life can grow into even with a rough start.
As in any life, there are highs and lows. Brendly uses her highs to continue helping those in need, and she uses her lows as a reminder of how far she's come. "The highs of my experience, of giving back, is a true feeling of making a difference for someone else. There's nothing like seeing a child smile as they have their basic needs met. It's a great feeling! The lows of my personal experience, honestly, I've always said, 'You don't know what you don't know.' But, as I grew up poor, I always knew there had to be something better. Feeling embarrassed and ashamed to wear something to school, shouldn't happen to any kid," Brendly reflects.
The Importance of Giving Back
A strong message Brendly would like to share is that it is important to volunteer and to help others. "When things are good for you, be good to others." There are a variety of ways to get involved. Often times, people think they need money to be able to help others, but sometimes it's simply about giving your time. Sharing your time with someone in need can go a long way. This is one of the many reasons why Brendly has been a Big Sister with Big Brother Big Sister (BBBS) for almost two years now, sharing her time with kids who need it most.
It can sometimes be overwhelming to know where to start. Take a step back and start by just taking notice of the people around you. Be more than just grateful for the things you have. "Be grateful and share that with someone who does not have much," shares Brendly. 
Professor Brendly shares what she does with her students. Not to guilt them, but in a way she hopes makes them think about who they are, where they've come from, where they're going and who has helped them get to where they are. She opens up the conversation with her students, sharing how and why she helps others. Along with that, she makes her class as supportive as possible but still encourages the students to be responsible. "I may give you a break when you need it, but remember that it was done for you and help the next person in some way," explains Brendly.
Although helping others should happen year-round, the holidays tend to spark the joy of giving even more. If you are looking for a way to help others this holiday season (or anytime), Brendly can always use toiletry supplies and socks. If you're able to help, it will be appreciated!
---
Register for the Council's upcoming Phoenix and Tucson tech events and Optics Valley optics + photonics events.
---