Scottsdale Chamber launches new website, improves access to member services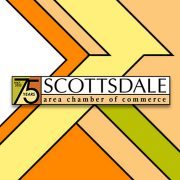 As part of our 75th Anniversary celebration, the Scottsdale Area Chamber of Commerce, in conjunction with our partners at Digital Saints, announce the launch of our new website. The goal of the new site is to improve access to member services and information while also modernizing the platform and raising the site's online profile.
The new, member-focused website is mobile-friendly, secured for enhanced privacy protection, and features enhanced accessibility. It also allows improved access and flexibility to manage digital services for our members and the community.
"Our primary goal during the redesign process was to create a more useable resource for our members across all platforms and devices.," said Chamber President and CEO, Mark Stanton. "We wanted to make it easier for our members to access valuable membership information and opportunities at their desks or mobile devices."
The website strengthens and expands our existing offerings, and features new frequently asked questions, social media interaction, news, events, contact directory, and online forms and payments. Digital Saints will continuously upgrade the website to enhance SEO and increase traffic, furthering the mission of the Chamber and increasing opportunities for Chamber members.
"Teaming with the Scottsdale Chamber to improve the user experience of the website has been an incredible opportunity," said Chuck Kim, CEO of Digital Saints. "We are excited to move to the next steps of implementing our digital marketing knowledge to make the new Scottsdale Chamber website a lead generation machine."
The new site makes it easy for members and visitors to keep up to date on the latest networking events, member benefits, business seminars, and business announcements, all in one place.
Digital Saints are marketing experts who continuously push horizons, think outside the box, and never settle for mediocracy. We built our team with people who truly care about taking care of clients. Business owners, CMOs, marketing directors, and web developers love how we help their teams scale with strategy and execute implementation. Collaboration is key to success.
The Scottsdale Area Chamber of Commerce is the largest business organization in Scottsdale providing advocacy, education, networking, leadership development and exposure opportunities to our member businesses. The Chamber actively works to maintain Scottsdale's high quality of life and create an environment where business innovation, excellence and entrepreneurship can thrive.
---
Register for the Council's upcoming Phoenix and Tucson tech events and Optics Valley optics + photonics events.
---