M3 Commercial Moving & Logistics: May 2020 Preferred Business Partner
M3 Commercial Moving & Logistics: Professional Movers for Your Commercial Assets, One Piece At a Time

M3 is an independent commercial moving, storage, and logistics company serving businesses on the move in Arizona and beyond.
M3 Commercial Moving & Logistics knows you have many choices for your commercial office move, whether you are moving across town or across the country. When you choose M3, you can expect efficiency, a seamless transition, and experience by M3's skilled professionals. They understand your needs and do their best to make your office move into a positive event. 
Part of the Muscular Moving Men Family, M3 Commercial Moving & Logistics team of commercial moving experts are specifically trained in best practices of the industry to satisfy any type of need for a business on the move. There's a difference between satisfaction and delight, and they are on a mission to delight our customers as much as possible.
Whatever your specialty moving needs, M3 has you covered.

Commercial Office Moving
Let M3's moving experts minimize your downtime so you can do what you do best. M3 provides superior commercial office moving support to meet any diverse business needs. They take every client request seriously, wherever you are going, so you receive the quality, service and care you deserve for your goods and assets. 
Whether you're relocating a small business or corporate office, fulfillment center or data center, or in the case of a unique collection, statue, large tradeshow setup, or high value asset you're worried about, M3 Commercial Moving & Logistics understands what it takes to provide the right solutions.
Project Management
Pre-move planning and precise attention to detail is part of our standard process. M3's Project Management service is a valuable resource for the planning and implementation of your small business, corporate office, technology, fulfillment center or data center move. Across town or across the nation, M3 gets to know your requirements, develops a strategy, and carefully plans each phase of your move for a seamless, effortless transition. When you are ready to make a move, let the M3 team of experts handle your unique project.
IT Relocations
M3 secures and protect your high-value IT assets. M3 recognizes that your Information Technology (IT) consists of valuable assets directly responsible for ensuring your business is productive. You can't afford your IT to be mistreated or misplaced on your upcoming project. IT relocations involve complex challenges, but M3's proposed solutions will assist in ensuring your IT is properly protected and cared for throughout your project. 
Laboratory Relocations
M3 carefully relocates your intricate laboratory assets. M3 understands the value of your intricate and complex laboratory systems. A laboratory relocation involves a complete site assessment and a comprehensive project plan for each phase of the project. M3 experts are trained to handle delicate lab equipment, transport assets where temperature control is critical, and properly pack and store assets with full compliance.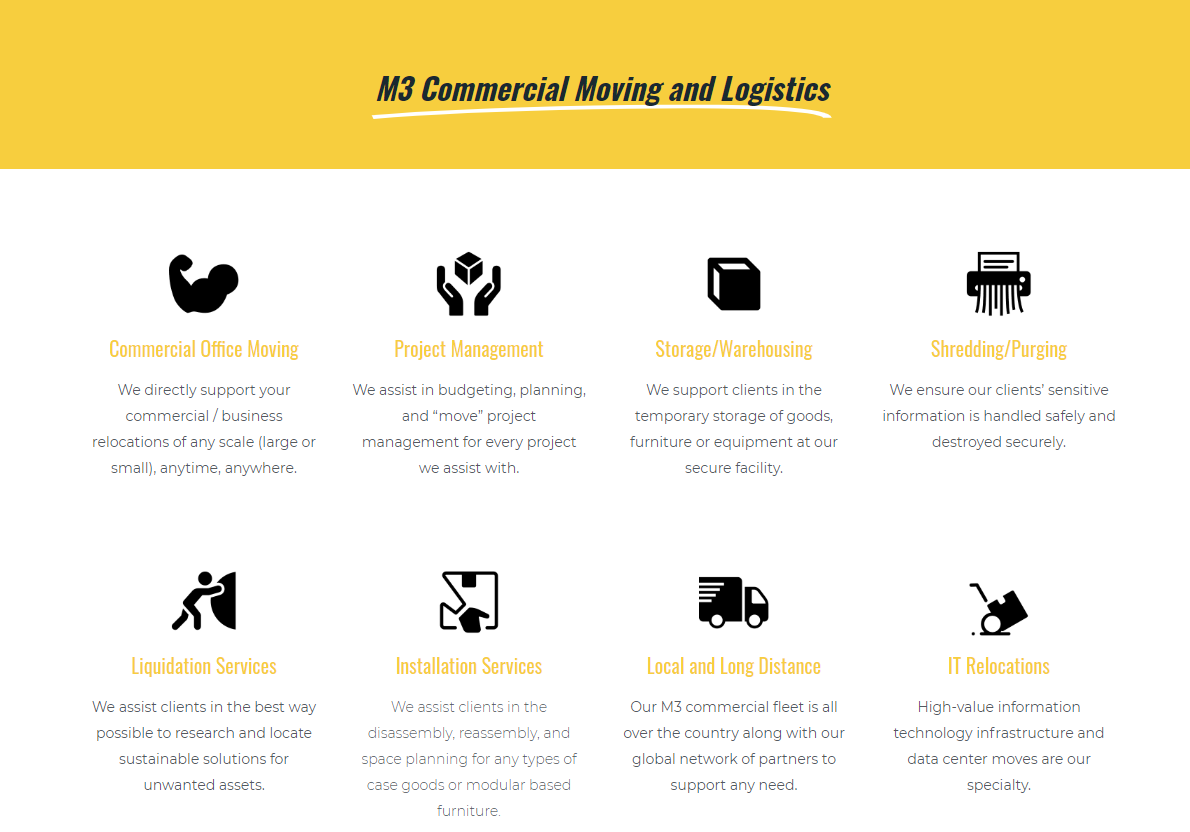 M3 is open for business during the COVID-19 pandemic and our team is taking every precaution to mitigate risk.
---
Contact M3 Commercial Moving & Logistics to ensure the perfect move for your business:
602-734-0190  | 

[email protected]

|  www.m3commercial.com