ICYMI: February 2021 TechCast | Powering the Future with Clean and Renewable Energy
The quest for sustainability across the globe is nothing new. In fact, 0ne energy crisis or another has shadowed most of the past five decades. From the OPEC crunch of the 1970s to the skyrocketing cost of oil and gasoline today, the world's concern over how to power the world has haunted scientists, elected officials, utility providers, end-of-the-world predictions, and our own sense of well-being.
Moderated by Phoenix Business RadioX, a distinguished panel of technology leaders from PayPal, Miller Policy Consulting and the Arizona Technology Council discussed the benefits of transitioning from fossil fuels to clean energy, the Arizona Corporation Commission's (ACC) role in adopting energy policies, how climate change is affecting us, what's at stake and how renewable energy can sustain humankind.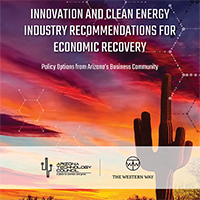 In the Arizona Technology Council's February 2021 podcast, Miller Policy Consulting Principal Doran Miller kicked off the conversation by shedding light on the co-authored clean energy report with the Arizona Technology Council in late 2020 titled "Innovation + Clean Energy: A Powerful Solution for Economic Recovery."
"Arizona is emerging as a national leader in technology and innovation, including the development and adoption of clean and renewable energy solutions.," Miller said. "As we look ahead to the state's post-COVID economic recovery, the clean energy sector has the potential to play a significant role."
"Clean energy is the answer to moving toward a prosperous and healthy future, as well as a powerful solution to restoring economic security at a time when Arizonans need it most," Arizona Technology Council CEO Steven G. Zylstra added. "This comprehensive report provides recommendations for incorporating the clean energy and innovation sectors into our state's economic recovery plan."
One key focus area that all three panelists strongly agreed on is the need for more infrastructure to create that clean energy future.
"Unfortunately, Arizona doesn't have the infrastructure in place to create that smart city of the future powered by clean and renewable energy," Zylstra said.
"Charging anxiety is a very real thing," concurred Rich Reyher, senior director of site reliability and cloud engineering at PayPal. "I've experienced what it's like firsthand to not be able to charge my electric vehicle and having to get my vehicle towed as a result."
Reyher added, "The adoption of electric vehicles has taken people and consumers some time, but it's increasing. Fortunately, PayPal employees can charge their electric vehicles for free at the company's charging stations. This is just one of the many ways PayPal incentivizes staff to do the right thing."
PayPal has made significant investments in clean energy and solar energy. The company's efforts have resulted in a 10% reduction in total greenhouse gas emissions, driven mainly by growth in the company's data center use of solar and other renewable energy sources. With more than 300 million customers and 12 billion payment transactions per year, it's clear that the online financial service company focuses on more than just their bottom line.
PayPal has worked in partnership with Arizona Public Service Company (APS), the Arizona Corporation Commission and other stakeholders and universities to incorporate clean energy efforts into its mission and values. The result of which is PayPal successfully offsetting 80% of its carbon footprint as the company flexes up or down on its workloads.
"It's crucial for PayPal to have sustainability and clean-energy programs to reduce greenhouse gasses in alignment with the Paris Climate Agreement," Reyher said. "Climate justice and equity are in our mission, in our blood, and in our foundation."
 


DORAN MILLER
Founder + Principal


RICH REYHER
Sr. Director, Cloud Engineering


STEVEN G. ZYLSTRA
President + CEO


 
The panel of clean-energy experts also discussed status of Arizona's clean energy policy, as well as activity at the Arizona legislature to strip the Arizona Corporation Commission of its authority to set a strong carbon reduction standard.
"This amounts to a basic turf war between the Arizona Corporation, which regulates utilities and the new standards to regulate energy, and the Arizona Legislature to bring energy rules into the 21st century," Miller said. "It's an unfortunate distraction. But it's worth noting of the efforts by Arizona's private sector to update and modernize energy rules."
Miller added, "We don't need a government mandate to move the needle to lower greenhouse gasses. The Arizona Corporation Commission's updated energy rules are an important piece of the puzzle to create a sustainable and clean-energy future. Government should match policy with the direction we're already going."
"In many ways, Arizona already is a leader in clean energy," Zylstra said. "Arizona is a solar leader in the United States. However, what Arizona's Legislature is doing this session to undermine the Arizona Corporation Commission is a regressive step. Many companies want to be on the leading edge of clean energy, so any steps backwards can be detrimental to economic development in Arizona."
About AZTechCast
The official podcast of the Arizona Technology Council, AZTechCast is dedicated to covering innovation and technology in Arizona and beyond. Through the art of the connected conversation, AZ TechCast's hosts and guests share success stories, tech news and analysis about the region's leading startups, companies and emerging technologies, as well as the latest industry trends and critical issues propelling Arizona's growing technology ecosystem. Visit www.aztechcouncil.org/techcast to learn more or to listen to recent episodes.
About Phoenix Business RadioX
Karen Nowicki is the owner and president of Phoenix Business RadioX. Amplifying the voice of business, Phoenix Business RadioX helps local businesses and professional associations get the word out about the important work they're doing to serve their market, profession and community. A successful author, speaker and the creator of Deep Impact Leadership™ and SoulMarks Coaching™, Nowicki is a two-time recipient of the prestigious national Choice Award® for her book and personal development retreat. In addition, Nowicki has been an expert guest on regional TV and radio shows, including Fox Phoenix Morning Show, Sonoran Living, Good Morning Arizona, The Chat Room and Mid-Day Arizona. Recognized for her leadership and business acumen, she has been a regular contributor to many print and online magazines – publishing articles and blogs for business and education.
---
Visit www.aztechcouncil.org/tech-events to view all of the Council's upcoming virtual tech networking opportunities, engaging virtual tech events and in-person tech events.
---