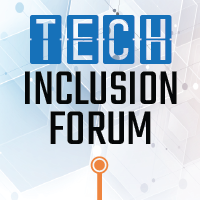 Intel's Diversity and Inclusion Journey: The Importance of Creating an Inclusive Environment
Register
The Arizona Technology Council would like to invite you to join June's Tech Inclusion Forum on Monday, June 22nd at 3:30 PM. This month's Forum will once again be virtual and will feature Reuben Miller, Director in Intel's Human Resources Global Diversity, Inclusion, and Social Impact Office.
While a lot of discussions around diversity and inclusion have been centered on hiring diverse talent- one of the keys to creating and maintaining a diverse workforce is through the retention of existing employees. Reuben will discuss some of the lessons learned from the company's D&I journey and some of the critical programs Intel has implemented to focus its efforts on creating an environment where existing employees from diverse backgrounds are valued, respected, challenged, acknowledged, and rewarded so they can achieve their potential and fulfill their career aspirations. Amongst the programs Reuben will discuss are Intel's WarmLine, Inclusive Leaders programs and Intel's network of Employee Resource Groups (ERGs), which includes Leadership Councils, composed of over 200 senior Intel leaders, that help guide and mentor members of the Resource Groups.
Agenda:
3:30 – 3:45  Welcome + Overview of Tech Inclusion Forum Series
3:45 – 4:30  Reuben Miller Presentation
4:30 – 5:00  Q&A with Reuben Miller + Closing Remarks
Event Speaker:
Reuben Miller is currently a Director in Intel's Human Resources Global Diversity, Inclusion, and Social Impact Office. He is responsible for Intel's Employee Resource Groups (ERG), the Warmline Retention Program, Inclusion, Scholar, and Great Place to Work Programs. His department is also responsible for the implementation for the policies that are developed out of the Group's global strategy and policy office.
Reuben is a supply chain, operations, and process improvement professional, and has worked for Intel for 23 years in various locations around the globe. Reuben is originally from Macon, GA. He attended Mercer University there, and graduated with a BBA degree along with an Army Officer commission. He served six honorable years in the Army, was deployed to Desert Shield/Desert Storm, and reached the rank of Captain. After his military service, he worked for General Mills in Minneapolis and Cedar Rapids for six years in various supply chain roles.
In 1996, Reuben decided to continue his supply chain and operations career, and joined Intel Corp. in Chandler, AZ to work in Global Supply Chain (GSC.) Intel has provided him an opportunity to work and live abroad in Penang, Malaysia and Chengdu, China for a total of three years. While working for Intel, he received his Executive MBA from Arizona State in 2004. Reuben has also received his Six Sigma Green Belt and Lean Bronze certifications, and is a certified Lean instructor. He is also PMP (Project Management Professional) Certified.
After 15 years of being based in Chandler, AZ for Intel, Reuben decided in 2014 to make a major a personal and professional change by moving his family to Portland, OR to work in Intel's Software and Services Group (SSG) in operations. He has now worked in Human Resources for the past two years.
Cost to attend:
Free for Arizona Technology Council members  |  $20 for nonmembers

Who should attend:
The Tech Inclusion Forum IDEA series is intended for everyone involved in today's tech workplace – hiring managers, top executives, HR leaders, experienced and aspiring STEM professionals. Please plan to join us at each quarterly event as the series drills down into the Inclusion, Diversity, Equity, Awareness (IDEA) challenges currently facing the tech industry. 
About the Tech Inclusion Forum IDEA series
Formerly the Women in the Workforce series, the Tech Inclusion Forum IDEA quarterly series focuses on highlighting the inclusion, diversity, equity and awareness (IDEA) challenges facing women and minorities in STEM fields today and showcasing the many extraordinary and accomplished women in Arizona's tech ecosystem.
Location
Virtual , Register to attend!
Date
June 22, 2020
Time
3:30 - 5:00PM
Cost
[Members: Free] [Non-members: $20]
Register