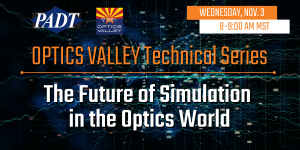 Find out where Ansys Optics/Photonics simulation is and where it is going with Eric Miller, co-owner of PADT. After their announcement to acquire
Zemax, Ansys is now the leading provider of simulation tools for optics and photonics. In this presentation, Eric will provide a technical review of the capabilities and use cases in Ansys SPEOS, VRExperience, Lumerical, and Zemax. More importantly, he will share inside info on how Zemax will be integrated with these tools and the flagship products for other physics: Ansys Mechanical, Fluent, AGI, Maxwell, and HFSS. PADT is the Elite channel Partner for Ansys in the Southwest.
About Our Presenter: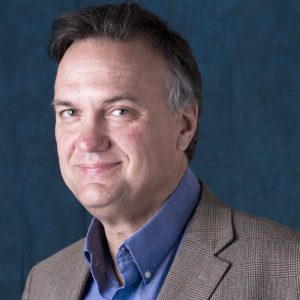 Eric Miller is a co-owner of Tempe based PADT, Inc., where he is involved in providing tools and services to companies who design and manufacture
physical products. He holds a B.S. in Mechanical Engineering from the University of California, Berkeley and has lived in Arizona since 1986. He started his career focusing on the application of Finite Element Analysis (FEA) and Computer Aided Design (CAD) to simulate turbine engine components. Over the years he became recognized as an expert user of the ANSYS software tool and in the development of custom software to automate the product simulation and design process.
After over three decades in the industry, Eric is often called upon to write and speak on simulation, design, and 3D Printing as well as on startups and the high-tech sector. His involvement in the startup community includes angel investing as well as mentoring and serving on steering, screening, and advisory boards of a variety of technical organizations and institutions.


| | | |
| --- | --- | --- |
| | | |
| PADT is the Southwest's leading provider of engineering services and products for Simulation, Product Development, and Rapid Prototyping. They are a group of smart people who like to do challenging things. Many of their staff members are recognized leaders in their areas of expertise. PADT is also a community that includes their vendors and our customers. | | Optics Valley, a committee of the Arizona Technology Council, is one of the leading clusters for optics, photonics and astronomy in the world. Optics Valley's mission is to catalyze, convene and connect optics, photonics, astronomy and the supporting business interests throughout Arizona.  |
Location
Virtual , Register to Attend!
Venue
Virtual Event
Date
November 3, 2021
Time
8:00am - 9:00am
Cost
FREE for ALL
Register